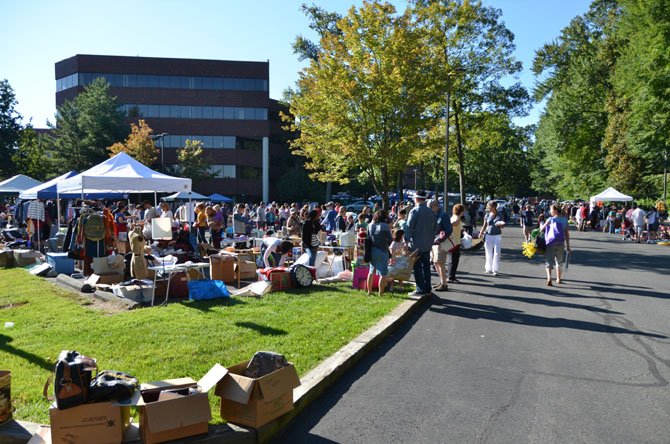 The Reston Association held a biannual yard sale at the parking lot near the organization's office at 12001 Sunrise Valley Drive on Sept. 7. Shoppers and vendors mingled from 8 a.m. to 12:30 p.m., enjoying the nice weather. The event organizer, Ashley Soloff, developed the idea of a community yard sale sponsored by the Reston Association. The idea was well received, as some neighborhoods in Reston do not permit individual yard sales.
"They started at Lake Newport Pool in the parking lot, and grew so large that it moved to Isaac Newton Square, where the Reston Association Office used to be. Currently at our new location on Sunrise Valley Drive we have room for 95 families," said Soloff.
Soloff has been working with the Reston Association for 18 years and works with a team of volunteers and a few staff to make sure the yard sale is a success. "I get volunteers out at 6 a.m. to help the morning of the event," said Soloff. "In May and September are the dates of the community yard sale on the weekend." The Reston Association also sells refreshments to cover some event expenses.
This year, Reston Association members paid $26 to take a vending station, and non-members paid $33. This pays for one event. Families and vendors sell a variety of items, so this event is a great opportunity to browse for bargains. "A lot of people do not want to vend twice a year because they do not have enough stuff to sell," said Soloff.
Nancy Brenek was one of the vendors at the September yard sale.
"I came all the way from Pennsylvania to attend this flea market. The layout is perfect and there are lots of customers. It is a good social event," said Brenek.
"It is very well organized, you get a numbered spot and there are volunteers to help you park," said Brenek's friend, Connie Connell. The event opened at 8:30 a.m. with many vendors arriving earlier at 6:30 a.m. "Up to 2,000 people attended the yard sale to shop," said Soloff.
Hannah Vasicek, a resident of Reston, arrived early to the market to do some shopping with a friend. "My friend Heather and I put this event on our calendar. There are so many good deals in one place."
Hubert and Angie Sieh, residents of Reston, have been vending at the Reston Association for four years. "We just like to clear our garage every few months. The event is very well organized by the Reston Association and a good opportunity to give old items a new home," said Angie Sieh.
Bethy Jo, a resident of Great Falls, was also vending at this year's yard sale.
"I have been vending for at least four years. I got into this from doing craft and vending shows. ... Items which are popular include collectors type items including purses and handbags. Some people are just here for the books."
"This is my first time coming out to the yard sale and it has been very good," said Jarvis Abbot. A resident of Reston for more than eight years, Abbot was able to obtain a pass for the yard sale just in time. "We are clearing out clothes and I just sold a DVD player and an alarm clock."
For more information about the Reston Association, visit their webpage at http://www.reston.org.