Attempted Burglary and Assault in Burke Area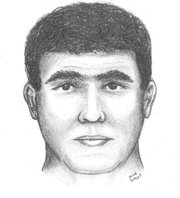 Police are investigating an incident that occurred Friday evening, Aug. 23. Around 6:50 p.m., a 37-year-old woman answered a knock on her door in the 10200 block of Scarborough Commons Court. A man standing at the door spoke briefly with the victim and then attempted to push his way inside the residence. The suspect also struck the victim in the upper body. The victim was able to slam the door shut and the suspect fled on foot. The victim sustained minor injuries and did not require transport to a hospital.
The suspect was described as Hispanic, 20s, with brown hair, about 5 feet 9 inches tall, weighing 180 pounds and wearing a black t-shirt and jeans. (Police have released a composite sketch of the suspect in this case—above.)
Anyone with information is asked to contact Crime Solvers by phone at 1-866-411-TIPS/8477, e-mail at www.fairfaxcrimesolvers.org or text "TIP187" plus your message to CRIMES/274637 or call Fairfax County Police at 703-691-2131.
Woodson's Yearbook Wins All-American Rating
Woodson High's yearbook, the Cavalier, has earned an All-American rating with four marks of distinction from the National Scholastic Press Association (NSPA). The All-American rating is the highest rating given to any publication in NSPA's critique service. Staff members received high praise for their work from a judge who noted that the staff "took a chance by being non-traditional."

Prevent Bicycle Thefts
Fairfax County police warn residents to take precautions to protect their bicycles from thieves. Crime analysts report an approximately 36-percent increase in the number of stolen bicycles over last year at this time.
Many bikes are taken when residents leave their garage doors open. Crime-prevention officers suggest bicycle owners take the following precautions to help prevent becoming victims: close garage doors; buy a hardened-steel U-lock; don't leave bicycles outside for days or nights on end; consider installing motion-sensor lights or alarms on the property; and photograph the bike and record its serial number to aid recovery if it's stolen.
Bikes may also be registered on the National Bike Registry at
http://www.nationalbikeregistry.com/. Stolen bikes may be reported online at https://www.fairfaxcounty.gov/police/crs/.