Alexandria — The beauty of regional theatre is that each theatre has its own personality, its own character, both on and off the stage. So when seasons are announced there is usually a common theme, thread, tone that connects the choices made by the Artistic Director, reflecting individual interests, passions and personalities. As scripts cross our desks, actors and directors discover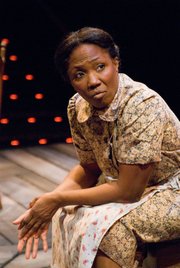 scripts that may be of interest. Media coverage of playwrights and plays are perused and a season slowly takes shape. What may appear as a random series of plays and musicals will ultimately reflect the aesthetic and intent of the theatre company.
Over time music has had an increasingly greater presence at MetroStage. Even though one of our first productions in the 1980s was Maltby & Shire's "Starting Here Starting Now," it took a while for us to realize music was our passion. And this year, as the season took shape, it became apparent that music was the connecting link in all five offerings. That, and the "emotional core" that seems to consistently inform and dominate our work.
This season the choices have a very profound musical component. In our opening production, the women of Gee's Bend sing gospel songs as they quilt. They are making quilts for their families' comfort, and at the same time, creating abstract designs that have been compared to Paul Klee, Frank Stella and Matisse, all the while participating in the Civil Rights movement. These women tell a remarkable story and the 17 songs sung in the gospel tradition add another dimension to this story and the history of Gee's Bend, which includes a visit by Dr. Martin Luther King Jr. the night before the famous Selma march.
When you attend a play or musical at MetroStage, you are recognizing the commitment we have made for the past 29 years to offer theatre with great artists and enriching stories that will explore your world and engage your intellect and emotions, stories of the human condition in all its complexity and challenges. Music covers the range of human experiences and emotions. Our productions this season will do the same, beginning with the beautiful gospel moments in "Gee's Bend," co-music directed by William Knowles and Alexandria's own William Hubbard.
"Gee's Bend" plays at MetroStage Sept. 12 –Nov. 3. For tickets or more information, call 703-548-9044 or visit www.metrostage.org.