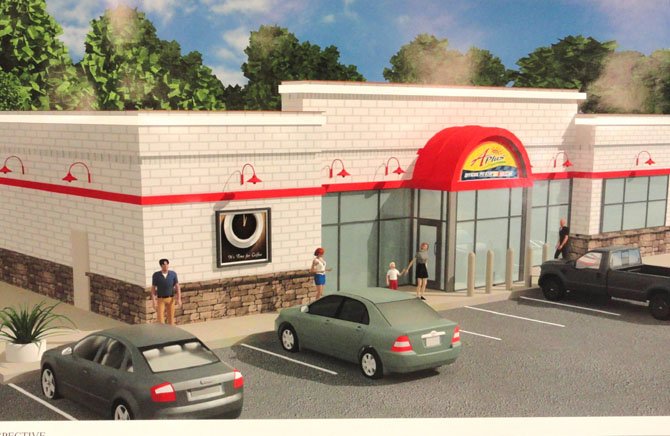 Fairfax County — It's on to the Fairfax County Planning Commission now for Sunoco's proposed changes to its gas station near the Dulles Expo Center in Chantilly. And along the way, two local land-use groups have opposed its intention to sell alcoholic beverages in its associated convenience store.
Located at 4475 Daly Drive, by Willard Road, the existing Sunoco station — initially a Mobil station — has been at that site since 1989. But after Sunoco acquired more land, it decided to completely revamp the facility and its offerings.
Currently there are six fuel pumps under a canopy, plus a carwash and a 1,571-square-foot convenience store; but Sunoco wants to add four more gas pumps under that canopy. It also wants to demolish the old store and build a 3,159-square-foot, quick-service food store in place of the car wash, which will be moved from the center of the site to the rear. More parking is planned, as well.
Sunoco's plan to sell alcohol from the convenience store is proving to be a hard sell — at least to the land-use committees of the West Fairfax County Citizens Association (WFCCA) and the Sully District Council of Citizens Associations.
Mini-marts aren't allowed to sell alcohol, so Sunoco's old one at the Dulles Expo site couldn't do so. But it's requesting permission to do just that at its new, larger store. Beer, for example, would be sold in six-packs, cases and single servings.
Historically, though — not wanting to give the appearance of endorsing drinking and driving — both land-use groups have opposed the sale of alcoholic beverages at places selling gas. And they're both sticking to their guns.
So at its Aug. 20 meeting, the WFCCA voted to support the Sunoco's expansion plans, but take no position on its alcohol sales. The next night, Aug. 21, the Sully District Council voted 5-1 in favor of the Sunoco, but not its proposal to sell alcoholic beverages.
However, attorney Sara Mariska, representing Sunoco, noted that there's little difference between people buying beer at a grocery store and driving away or purchasing it at a gas-station convenience store and doing the same. And the latter situation may be preferable, she said, because "Customer comings and goings are more closely monitored."

The issue is scheduled to go to the Planning Commission on Oct. 3.
More like this story