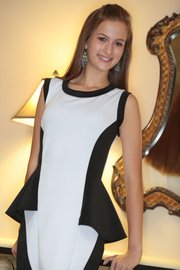 Skye Jannery-Barney of Great Falls represented the state of Virginia in the National Miss Junior Teen America 2013 competition this summer in Orlando, Fla. She is the current Miss Junior Teen Virginia 2013. Skye is an eighth grader in the Academic Advanced Program (AAP) at Kilmer Middle School. Skye won the overall National Academic Achievement Award at the Miss Junior Teen America pageant competition.
Skye plays soccer and basketball for Great Falls and she loves to act and perform as she demonstrated this spring by performing with Voices of
Now on Arena Stage in Washington, D.C. (part of the Kilmer Drama Club program). Skye is interested in the business of fashion.
Girls were judged in the areas of academic achievement, athletics, fitness, interview, fashion and style, formal wear and performance.