Troop 673 of Great Falls recently promoted two new Eagle Scouts.
Ryan Scott Anger, son of Scott and Mary Anger of Great Falls, joined Troop 673 in 2006. Since joining the troop, Ryan has served as quartermaster and patrol leader twice. Ryan has attended summer camp five of the past six years and has participated in the Sea Base High Adventure trip.
For his Eagle Project, Ryan organized and ran a Hunger Banquet, as well as set up a collection for canned goods for the Embry Rucker Shelter. This combined project was meant to raise awareness about poverty in Fairfax County. Working with members from the Great Falls United Methodist Church, Ryan developed a detailed plan on how to best serve food to members attending the Hunger Banquet, as well as how to set up the canned food drive. The dinner effectively raised awareness and generated conversation about the economic disparities in the world and in Fairfax County. Participants were motivated to help support those living at the Embry Rucker Shelter. With the help of the troop and others, Ryan carried out the dinner successfully and delivered numerous boxes of canned goods and a monetary donation to the shelter.
Ryan is a recent graduate of Langley High School where he was a member of winter track, spring track, and the cross country teams. Currently a freshman at Hampden-Sydney College, he plans on majoring in economics and finance.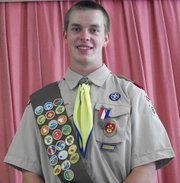 Sawyer Jones, son of Frank Jones and Claire Abbott of Great Falls, joined Troop 673 in 2007 after earning the rank of Arrow of Light as a Cub Scout. Since joining the troop, Sawyer has served as quartermaster, historian and also as patrol leader for multiple terms. Summer camp has always been one of Sawyer's favorite Boy Scout activities and he attended the troop's summer camp for several years. He was awarded the Silver Bullet Sharp Shooter award during the competition at one of the scout summer camps. Sawyer especially enjoyed hiking South Mountain and Old Rag on troop outings.
Sawyer is a senior at Langley High School where he plays on the varsity lacrosse and football teams. After high school, Sawyer plans to attend college and major in either business or medicine.
For his Eagle Project, Sawyer led a group of scouts and friends in redirecting a portion of the Potomac Heritage trail along the Potomac River between Riverbend Park and Great Falls National Park and blocking off the spider trails. The new section of trail prevents erosion of the riverbank and protects rare plant growth.