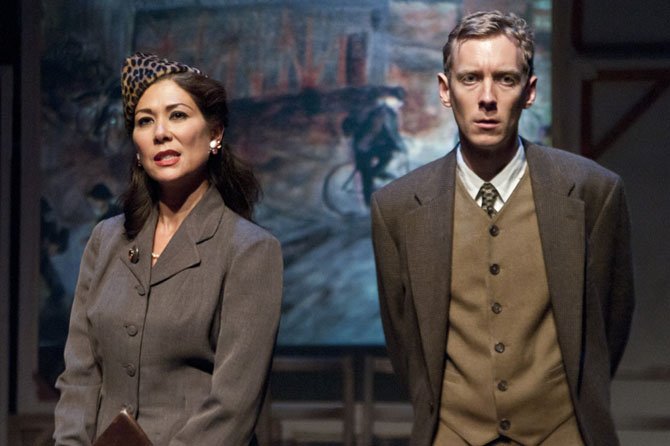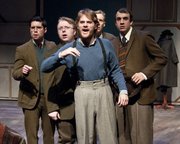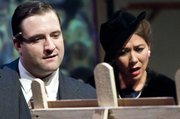 "When and Where"
1st Stage presents "The Pitmen Painters" at 1524 Spring Hill Road, Tysons Corner. Performances: Now thru Oct. 13: Fridays at 8 p.m., Saturdays at 2 p.m. and 8 p.m., and Sundays at 2 p.m. and 7 p.m. Tickets: General admission: $27. Seniors $22. Students and Military $15. Visit: www.1ststagetysons.org or 703-854-1856. Note: Appropriate for ages 12 and up. Note: Want to know: http://www.ashingtongroup.co.uk/home.html.
By David Siegel
The Connection
A quiet stunner. Under the fine eye and caring direction of Stevie Zimmerman, the 1st Stage production "The Pitman Painters" by Lee Hall is inspired. It is a fleshing-out of the mysteries of creativity from quite unlikely sources. Audiences will lean forward admiring what is set before them as this insightful production takes hold.
Hall based the play upon the lives of the Ashington Group; British miners from the 1930s-1940s. They worked long hours in difficult conditions. Then they unexpectedly unlocked their artistic talents while taking an art appreciation course offered by their union.
For Hall, the play is "a play about real conflict." He is fearless in probing the usually unspoken question; "Is it possible to be a working class person, an ordinary person, and still be an artist?" His pedigree includes the Tony Award winning "Billy Elliott, The Musical" and the screenplay for the Academy Award winning "War Horse."
Zimmerman has a pleasing brush stroke level touch as the production quietly lassos the audience to care about the miners' journey even as some of Hall's Act II dialogue can sound a bit like stale dry political rhetoric from a by-gone time. Zimmerman is a miniaturist painter with her eight-member ensemble. Each actor provides distinctive personality for their "archetype" character, even when dialogue is sparse.
The cast includes 1st Stage veteran Matt Dewberry as Lyon, the upper-class, at first impermeable teacher who helps awaken the miners to their talents; Dylan Myer as Oliver, with perhaps the deepest creative talent and questioning mind; Alden Michels, a union steward played like the comic Dilbert's boss and James Miller, giving group-think Marxism some heart. MiRan Powell plays the impervious, moneyed woman dabbling in people's lives as if they were just art to be bought and hung up. Ryan Alan Jones has a formidable outburst at the top of Act II that brought Picasso's iconic, anti-war "Guernica" to bleeding, breathing life.
Steven Royal's set design with Tewodross Melchishua's video projections provide lovely visual clues like silent dialogue using actual Ashington painting images. Lighting by Kristin Thompson and sound by Bradley Porter seamlessly support the verbal action and during the many "brown-out" scene changes. A shout-out to Alexander Strain for his British dialects coaching as well.
"The Pitman Painters" is a handsome evening that takes the audience on a feisty journey. Don't let "thought-provoking" scare you away. Don't pass up this production.
More like this story