Rocktoberfest, a family-fun, musical festival, features a headlining performance from Robbie Schaefer, singer of Eddie from Ohio and singer Kira Willey, a children's music artist, as well as performances from other local artists at the Metropolitan School of the Arts in Lorton on Sun., Oct. 27 from noon to 4 p.m. at the Workhouse Arts Center at 9601 Ox Road. Cost is $10 per person, which benefits the non-profits, Metropolitan School of the Arts and One Voice, an organization that provides for needy children in East Africa, India and the United States. For tickets, go to www.metrofinearts.com.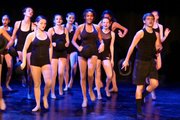 The $10 admission fee for Rocktoberfest covers free activities that include: headline entertainment by Robbie Shaefer of Eddie from Ohio, local children and adult performers, moon bounce, crafts, face painting, obstacle course, slides, sports, face painting, crazy hair and nail painting. Food cost is additional. All profits go to MSA and One Voice. Gently used dance shoes of all kinds, dance leotards and dance costumes will also be for sale. Corporate sponsorship is available from $500 to $10,000.
Founded in 2011, OneVoice was founded by Eddie From Ohio's guitarist and songwriter, Robbie Schaefer. OneVoice has done everything from build a school in Tanzania to provide surgeries to children with heart defects in Kenya. Working in East Africa, India, and here in the U.S., OneVoice is committed to helping children everywhere experience their creativity at work in the world. Robbie Schaefer is part of the D.C.-based indie folk band that has had more than a 20-year career and has released nine albums. They've cultivated a large and loyal fan base across the U.S. and beyond, selling out venues from San Francisco to Chicago to Washington, D.C., and appearing at the Telluride Bluegrass Festival (CO), NPR's Mountain Stage, and most recently, The Montreux Jazz Festival in Montreux, Switzerland. Go to www.onevoicecommunity.org.
Lorton-based, Metropolitan School of the Arts (MSA), a 501 (c) 3 organization, is the first Washington, D.C. area, private, secondary performing arts school, founded in 2013 by Melissa Dobbs. The MSA performing arts studios in Alexandria and Lorton have taught dance, music and theater to more than 10,000 students since 2001. Call 703-339-0444 or visit www.metropolitanarts.org, Facebook or Twitter.