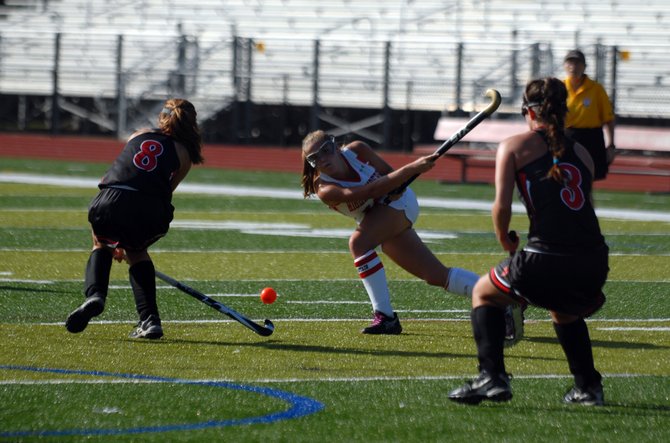 Each of the McLean field hockey team's first seven games was decided by three or more goals. On Friday afternoon, the Highlanders instead found a way to win a tightly-knit contest against the Madison Warhawks.
After Madison overcame a two-goal deficit to the score, Erika Eckrod's goal with less than 11 minutes remaining propelled the Highlanders to a 3-2 victory at McLean High School.
McLean scored two goals in the game's first eight minutes and led 2-1 at halftime, but Madison senior Alex Condon's goal tied the score at 2-all with nearly 15 minutes remaining. A few minutes later, Eckrod scored the game-winner on an assist from Patricia Cole.
The victory improved McLean's record to 6-2.
"I wanted to leave it up to them to create their own momentum forward and regroup," McLean head coach Summer Vanni said. "They did that --- it was a little slower than I wanted it to be --- but they regrouped and found a way to finish. By no means was it our prettiest win, but I just said make sure it gets done."
Prior to Friday's game, McLean defeated Yorktown, Centreville, Tallwood, Grafton and Oakton by a combined score of 21-2. The Highlanders suffered 3-0 losses to both St. Catherine's and Fairfax.
Friday's first eight minutes were also lopsided, as McLean seniors Noor Varjabedian and Christin Geisler scored to give the Highlanders a quick 2-0 advantage. Madison would turn things around, however, as Kierra Sweeney scored the Warhawks' first goal five minutes later and Condon tied the score in the second half.
"By no means was it our prettiest win, but I just said make sure it gets done."

--- McLean field hockey coach Summer Vanni
"We are a very close-knit team … so I think when we realize that we're not playing our best, we're able to get each other up," Geisler said. "We have no problem criticizing each other. We all accept it. We all know that it's nothing personal. We all know we all want to get the job done."
Vanni said Varjabedian played well for the Highlanders.
"Noor Varjabedian, she is a little scrappy middie that jumps on the ball," Vanni said, "and she's a good example for the girls of how to work hard when things aren't always working perfectly --- when we don't get that perfect pass or that perfect tackle, she's there to say, 'Come on guys, let's do it anyway.'"
The loss dropped Madison's record to 6-4. The Warhawks won their first four games, but have since dropped four of six.
"I don't think we played our best," Madison head coach Marsha Ehrsam said after Friday's game. "The first five minutes, to me, that was the game right there …"
McLean will travel to face Thomas Jefferson at 7:30 p.m. on Tuesday. Madison will travel to play Herndon at the same time.