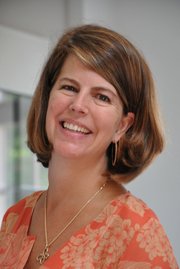 The Langley School is kicking off the 2013-2014 school year under the leadership of a new head of school. Dr. Elinor Scully assumed her role as Langley's next leader on July 1, following the retirement of Doris Cottam who served as head of school for 13 years.
With more than 20 years of both classroom and administrative experience in independent schools—and a strong background in childhood and adolescent development —Dr. Scully brings a wealth of knowledge and a deep passion for Langley's mission to her new position. "I think what most attracted me to Langley was the school's powerful sense of community and its clearly defined mission which drives all aspects of school life," says Dr. Scully. "Many schools will say they are committed to educating the whole child—the academic, social and emotional domains—but they don't always put the concept into practice. At Langley, the core values and the mission are centrally integrated in a way that's very genuine and palpable."
For the past three years, Dr. Scully served as associate head of National Cathedral School (NCS). For five years prior to her appointment as associate head, she served as NCS' Upper School director and assistant head. At NCS, her work centered on curriculum development; the creation of a nurturing and supportive school climate; faculty, staff and student leadership; multicultural education; and parent education. Dr. Scully began her education career in 1991 at St. Stephen's & St. Agnes School in Alexandria as a health and human sexuality teacher. During her 13-year tenure at the school, she moved into the administration as the associate head of the Upper School.
A native of Falls Church who attended Falls Church City public schools through high school, Dr. Scully earned her undergraduate degree in English from the University of Virginia. She also holds an M.S. and a Ph.D. in education from the University of Pennsylvania. With a national reputation in the field of childhood and adolescent development, she has worked with more than 40 independent schools on a range of topics, including gender issues, health and sexuality, adolescent development and parent education.
"Elinor's credentials are impressive; however, the board was most impressed by her passion, her vision, and her adaptability as an educator," says Jamie Baker, Langley's Board chair and chair of the Head of School Search Committee. "She is a lifelong learner and a trend-setter, but not a trend-chaser. She is ardent about understanding cognitive neuroscience and its relationship to childhood learning, but has not forgotten that there is often no substitute for a smile or a well-held hand. She is a gifted communicator, but also a gentle listener and a community-builder. Elinor is the right educator to build on Doris Cottam's legacy and lead Langley into the 21st century."
While on campus working with Langley's students, parents, and teachers several times as a consultant over the past few years, Dr. Scully had the opportunity to learn about Langley firsthand. "I saw a school that was fully dedicated to its students, meeting children where they are and using innovative strategies to help them grow," she says. "Having come from schools with older students, I was excited by the opportunity to focus on the development of very young children at a preschool to eighth grade school. It's thrilling to be able to impact children at such a young age when they are still in their most formative years."
Dr. Scully's primary goal for the upcoming school year is to get to know Langley inside and out. She plans to spend time building relationships with members of the school community, both past and present, as well as understanding the nuances of what makes Langley unique. "By immersing myself in the Langley experience over the course of the next nine months, I will be better prepared to help the school move forward in the years ahead," she adds, noting that the school's strong foundation will allow her to pick up the reins and begin thinking about the direction the mission and culture will take Langley in the future.
Founded in 1942, The Langley School is an independent coed day school educating more than 490 students in preschool through eighth grade. Situated on a 9.2-acre campus in McLean, the school reaches across multiple disciplines to discover, amplify and embrace the talents of every child, every day.