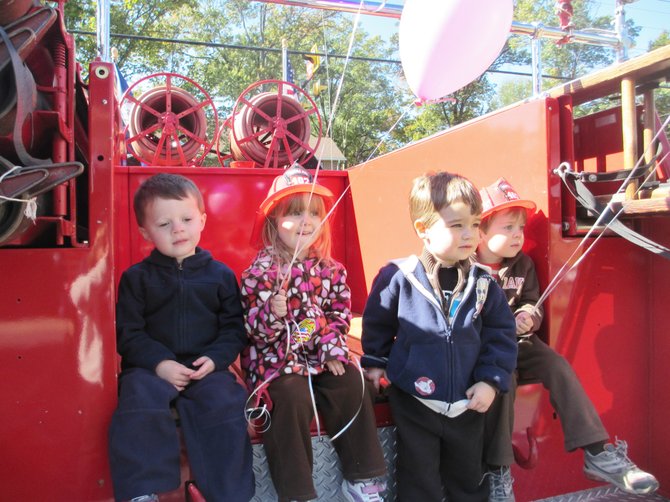 Fall Fun in Vienna
By Donna Manz
The Connection
Photo Gallery
Vienna Festival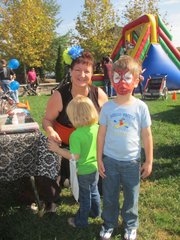 Click Photo for Flash
The Vienna-Oakton Connection offers a snapshot of fall fun around the area. Look for our holiday fun guide in November, with details of the Church Street Holiday Stroll, breakfast or lunch with Santa, holiday bazaars, and the Wolf Trap Sing-a-long.
In the meantime, grab a sweater, swish your shoes in falling leaves and enjoy the crisp, sunny air. And don't forget school fall festivals and book sales, as well as The Barns of Wolf Trap, which presents performances almost daily. Over at Waters Field, there are VYI football games all day and under the lights … and the football fun is free. The Vienna Farmers' Market, in the church parking lot across the street from Waters Field, is open through the end of October.
*Family Skate Nights begin on Sept. 20 at the Vienna Community Center and run every Friday through Dec. 20 from 6:30 to 8 p.m. Family Skate Nights are blacked out on Nov. 1, 8, 15 and 29. Cost of admission is $1 per person. No registration is required.
*Vienna Oktoberfest, sponsored by the Vienna Business Association and the Town of Vienna, is scheduled for Saturday, Oct. 5 from 11 a.m. to 7 p.m. The festival takes place along the Historic Church Street corridor and on the Town Green, and features German and American food, German and American beer, about 100 vendors, live entertainment on the children's stage and the main stage and children's free activities. America's "most authentic original looking Lone Ranger & Silver in the Country"—that's what his website says—and his horse Silver present a program of positive values for children and poses for photos with festival visitors.
Children can rock-climb, jump in a bounce house and write on the street with chalk, and build with Legos.
Kicking off the children's entertainment is none other than the area's most popular kiddie-rock band, Rocknoceros, performing on the Town Green stage at 11 a.m. Overseeing the 2013 festival, for the first time ever, is a burgermeister, Greg Bernhard, and a wein richter (that's "wine judge"), Mark Schmidt.
To learn more about the 2013 Vienna Oktoberfest, go to www.ViennaOktoberfest.org. Proceeds benefit the first annual First Night celebration.
*Vienna Volunteer Fire Department hosts its Open House on Saturday, Oct. 12, from 10 a.m. to 4 p.m. to celebrate National Fire Prevention Week and to share information on fire prevention and safety. This year's theme is "Prevent Kitchen Fires."
There are children's games and activities, complimentary hotdogs and popcorn, and fire engines and ambulances to climb aboard. Firefighters and EMTs in uniform do demonstrations and answer questions from youngsters.
*All-you-can-eat Spaghetti Dinner, sponsored by the Vienna Volunteer Fire Department Auxiliary, will be held on Saturday, Oct. 19, from 5 to 8 p.m., in the Flame Room of the Vienna Volunteer Fire Department, 400 Center Street S. The cost is $8 for ages 13 through 64, $7 for seniors 65 and older, $5 for children 4 to 12 and free for kids 3 and younger. Dinner includes all-you-can-eat spaghetti and meatballs, bread, salad and drink.
All proceeds benefit the Vienna Volunteer Fire Department. For more information, contact Jane Towle at 703-919-1630 or visit www.vvfd.org.
*The Vienna Theatre Company opens its 2013-2014 season with humorist Steve Martin's comedy, "Picasso at the Lapin Agile," on Oct. 18. Performances continue on Oct. 19, 25, 26 and Nov. 1 and 2 at 8 p.m., and on Oct. 27 and Nov. 3 at 2 p.m. All performances are at the Vienna Community Center. Tickets go on sale Oct. 1 and are priced at $13 each. Visit www.viennava.gov for ticket sales or www.viennatheatrecompany.org/ to learn more about the Vienna Theatre Company.
"Picasso at the Lapin Agile" is about the meeting of two famous minds in a Paris bar in 1904. On the edge of a new century and artistic and scientific frontiers, Picasso and Einstein go head-to-head, surrounded by a cast of colorful characters.
*The 67th Annual Vienna Halloween Parade steps off at 7 p.m. on Wednesday, Oct. 23, on Maple Avenue. The theme of this year's parade is "Celebrating Music and Theater through the Decades" with Mayor M. Jane Seeman serving as the Grand Marshal. Bands, floats, dignitaries and performers brighten the night. Highlights include the Redskins Marching Band and the Washington Nationals mascot.
Costumed kids are invited to walk in the parade in their Halloween costumes. No registration is required. Children and their parents meet at 6:30 p.m. in the parking lot of Virginia Commerce Bank, 374 Maple Ave. E. Children must be accompanied by an adult.
*The Vienna Woman's Club kicks off the community's holiday bazaars on Saturday, Nov. 9, at the Vienna Community Center from 9:30 a.m. to 4 p.m. The 2013 bazaar, the club's 53rd, features more than 70 crafters and vendors, selling holiday decorations and hand-crafted gift items. Admission of $2 benefits the scholarships and grants program of the Vienna Woman's Club.
*Bowman House Pottery Show and Sale takes place on Saturday, Nov. 9, from 10 a.m. to 3 p.m. Students and teachers offer handmade pottery available for sale at the Bowman House Arts and Crafts Center, 211 Center St. S.
*Meadowlark Botanical Gardens' Winter Walk of Lights is presented from Nov. 15th to Jan. 5. Over 500,000 LED lights and displays that bring Meadowlark Botanical Gardens to sparkling, vividly-colored lights. From the animated displays to the themed vignettes, Meadowlark is transformed into a walkable winter wonderland. Timed-admission tickets can be purchased at the visitors' center or at http://nvrpa.ticketfly.com/.
*11th Annual Vienna Turkey Trot, 10K, 5K and 1 mile Fun Run take place on Sunday, Nov. 24. Participants meet and start their "trot" at the Vienna Volunteer Fire Department, 400 Center Street S. The 5K and 10K start at 8 a.m.; last minute packet pick up opens at 7 a.m. The Fun Run starts at 9:15 a.m.
Cost to register for the 5K is $25, $30 after Oct. 31. Cost of registering for the 10K is $35, $40 after Oct. 31. The Fun Run is $15 to register. There is no race-day registration.
Proceeds benefit the James Madison High School Marching Band and the Vienna Volunteer Fire Department.
Participants must register in advance at www.viennaturkeytrot.com.
*The Church Street Holiday Stroll holds center-stage again along historic Church Street on Monday, Dec. 2, from 6 p.m. to 9 p.m. Santa arrives by antique fire truck and greets children at the Historic Freeman Store and Museum. Santa and Mayor M. Jane Seeman light the holiday tree at 6:20 p.m. Shops along Church Street are open for holiday shoppers. Counted among the fun family friendly activities are a petting zoo, free hot chocolate and roasting marshmallows at supervised bonfires. Santa listens to wish lists and Freeman Store is open for sales with unique Virginia foods and Vienna logo pottery. Holiday entertainment will be provided throughout the evening.
*Radio City Christmas Spectacular is a Town of Vienna-sponsored family trip for ages 5 and up. The one-day trip is scheduled for Saturday, Dec. 14. The Town suggests signing up early as the charter bus fills up quickly. The bus leaves the Community Center at 6:30 a.m. and returns at 1 a.m. The cost is $138 for residents and $172.50 for out-of-town participants.