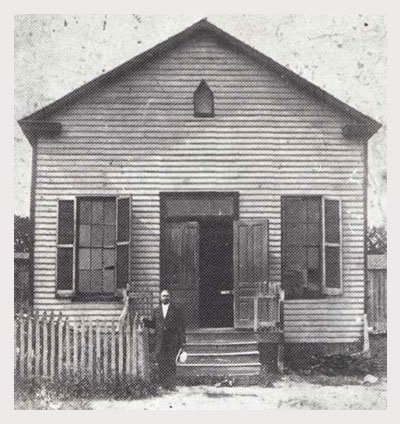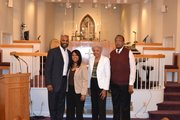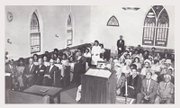 Late in the 19th-century, three figures converged in Northern Virginia, leading to the creation of one of McLean's first African American churches. Cyrus Carter was a local pastor whose goal was to establish four black churches in Northern Virginia. The plan was to organize churches in Chesterbrook, Vienna, Arlington and in west McLean where Shiloh Baptist Church now stands. In 1873, Carter was able to broker a deal with local landowner, Charles Elgin, and Shiloh Baptist Church was born.
"At the time, there were no black churches. Although this is where the majority of African Americans were living in those days, who were free," said Pastor Robert Cheeks. "They migrated to this area as D.C. was beginning to grow. This was a predominantly African American community," he said.
Carter recognized the need for the community to have a place to worship. And after securing the necessary property, which still stands at the intersection of Lewinsville and Spring Hill Roads, Carter and the new congregation needed a place to worship while they raised money to start building a church.
"It was difficult in that time, right after slavery, for people to save their money," said long-time member Archie Borgus. But they were able to raise the capital, and the cornerstone was laid in 1887.
ALFRED ODRICK, former slave and local landowner, offered his Odrick's School to the congregation as a temporary solution. Odrick's School stood at the point between Lewinsville Road and Spring Hill Road, and provided a place for the congregants to worship and grow their church membership. The school has long since been torn down, but the area is still referred to and bears a historical marker naming it Odrick's corner.
This month, members of the small historic church have been celebrating their 140th anniversary. The milestone was marked with a series of service ministries and old-fashioned celebrations. Members marked the event with a commemorative walk following their monthly L.O.V.E. (Linking with Others through Volunteerism and Evangelism) ministry of assembling sandwiches for the homeless. "The first Saturday of every month, they bring sandwiches downtown, they minister to them, pray with them, and some of them want to share and talk," said long-time member, Clifford Wiggins. "Sometimes they just want a hug," he added.
Wiggins, who was born in 1961, has been at Shiloh his entire life. "I grew up in this church," he said. He has been in the choir for more than 20 years, ushered, cooked, "worked wherever I was asked," he said. He is proud of the church's ministry.
Shiloh is often known for its community activism, according to 81-year-old Deloris Evans. Evans is also proud of the church's reputation and the 18 ministries that it is currently involved with. "I was baptized here in 1944," she said. "I was 12 years old. My parents had belonged here, and my father's parents had belonged here. They were great workers," she said.
"I was baptized in Scotts Run Creek. We would go in the winter, summer, spring and fall. I was baptized in the winter months. I don't think I got warm ever again," she laughed.
Archie Borgus explained that Shiloh would perform its baptisms at the bottom of Lewinsville Road, where it used to meet Scotts Run creek. The beltway stands there now. "Lewinsville Road used to be much lower than it is today," said Borgus. "Down by the beltway there was a creek there called Scotts Run. That was where the members were baptized. And then they would go up the hill to the home of the late Deacon and Mrs. Andrew Holland and change clothes."
SINCE PASTOR CHEEKS and his wife and Associate Minister Constance Cheeks joined Shiloh about six years ago, the membership has grown. The church currently had to close to 300 people on its roles. Next month the church will start offering two services to accommodate the growing membership. The membership includes a large contingency of older persons and an increasingly large number of children and youth. "It's a progressive ministry that is very open to God's vision," said Constance Cheeks. "And it's a great bridge of the young and the old. The people here are very loving and very warm," she added. "And that tends to draw others."