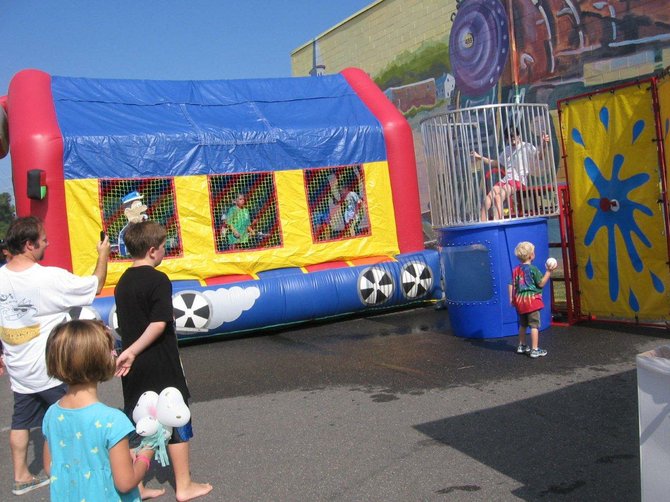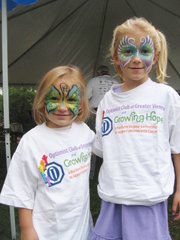 Saturday, Sept. 28 from 10 a.m. to 2 p.m., Vienna Town Green, 144 Maple Avenue East. Activities:
*3-mile fundraising walk on W&OD trail, musical entertainment by Donaldsons' Run, games, moonbounce, facepainting, balloon artistry. Dunk tank featuring teachers, government officials and Optimists volunteers, 10 a.m. to 1:30 p.m.
*Food and refreshments available for sale; proceeds to Growing Hope.
Fundraisers include the live auction at 11:30 a.m. and 1:30 p.m. $500 gift certificate to Princess Jewelers, wine basket from Vienna Vintner, Harvest Bread basket with certificates for one year of bread, Fresh Market large basket of food items, Evo Restaurant gift certificates, JW Massage basket with gift certificate, robe and relaxation items, stuffed animal giraffe and more added weekly; and raffles at 11:30 a.m. and 1:30 p.m. $5 per ticket or 5 for $20; themed gift baskets, Elements Massage gift certificate, Gift cards to Giant, Mom's Organic Market, Safeway, Cocoa Vienna box of chocolates, Diamond Spa gift certificate, Abbey's Hallmark Vera Bradley product, Avivo Salon, Nail Experts Boutique Salon, restaurant gift cards and more.
Go to www.Optimistclubofgreatervienna.org for more information, and Family Fun Day updates at its Facebook page, Optimist Club of Great Vienna.
Family Fun Day Returns Sept. 28
The Optimist Club of Greater Vienna knows a lot about helping the youth of the community. Growing Hope, a Northern Virginia supportive resource for families facing childhood cancer, knows a lot about that, too. Together, the Optimists and Growing Hope help young patients and their families cope with the unsettling changes in their lives while undergoing cancer treatment. The Vienna Optimists have fundraised on behalf of Growing Hope for eight years, now. On Sept. 28 on the Town Green, the Optimists are hosting its annual Walk & Family Fun Day for Growing Hope. Festivities, from children's activities to raffles and live auction, run from 10 a.m. to 2 p.m. The community is invited to join them.
Growing Hope serves to provide cancer treatment education, respite for patient and siblings and fun activities for the whole family. Growing Hope embraces the family unit, from patient to siblings to grandparents.
"Even if it's just a moment of happiness for the patient and the family, our efforts are worth it," said Paula Lackey, on Growing Hope's Board of Directors and mother of two cancer-stricken children. Her son Brendan died before his 13th birthday, in May of 2007. Daughter Tara, diagnosed at age 2, is now a teenager.
This fall's event features a fundraising fun walk, food, live musical entertainment, prizes for children, face painting, balloon artistry and free t-shirts for donors. Sponsors are still invited to participate. The Optimists donate 75 percent of the net proceeds of the childhood cancer campaign to Growing Hope, and the remaining 25 percent to Johns Hopkins University and Medical Center childhood cancer research. Since 2006, the Vienna Optimists have raised more than $250,000 to fight childhood cancer. The Vienna Optimists raise more than half of Growing Hope's operating budget every year.
"Our members really believe in this cause," said Family Fun Day co-chair Anna Ryjik of the Vienna Optimists. "They go out to get business donors, they volunteer their time to get sponsors and prizes, and work the Fun Day."
Growing Hope hosts an annual picnic for the families, pizza parties and a family day at King's Dominion, as well as providing tools to make the lives of cancer-stricken children less isolating. The nonprofit also gives out "scholarships" to survivors, simply because they "are," Lackey said.
Country/folk band Donaldsons' Run plays throughout the event; the band donated its services. Among the many auction prizes donated by community businesses is a Washington Redskins mini-football signed by linebacker London Fletcher.
"We can't cure cancer," said Lackey. "We're not that big. But, if we can make a child or his family happy, if we can put a smile on their faces for just a minute, it's worth it."
To learn more about the Optimist Club of Great Vienna, e-mail info@optimistclubofgreatervienna.org or refer to the club's website at www.Optimistclubofgreatervienna.org. Get updates on the family fun day at the club's Facebook page, Optimist Club of Greater Vienna. The Optimist Club of Greater Vienna meets the first and third Wednesdays of every month, starting at 7 p.m. at Marco Polo Restaurant in Vienna. New members are welcome.
—Donna Manz