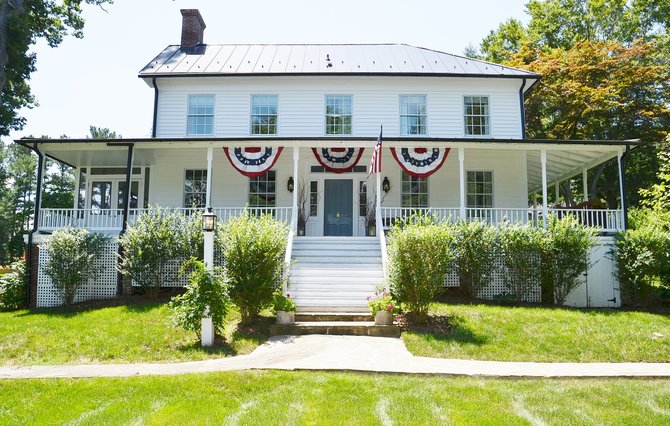 Ticket sales for the McLean Woman's Club annual Holiday Homes Tour will begin on Oct. 1 at three retail stores in McLean, Vienna and Great Falls and will continue through Thursday, Dec. 5, the day of the tour. The stores are Mesmeralda's Gifts of McLean (1339 Chain Bridge Road), Karin's Florist (527 Maple Ave., E., Vienna) and Great Dogs of Great Falls (9859 Georgetown Pike). Tickets will also be sold on Dec. 5 at the tour houses and at a free "MarketPlace" at Trinity United Methodist Church, in McLean (1205 Dolley Madison Blvd.). The latter event will start at 10 a.m. and end at 3 p.m., concurrent with the tour. Tickets for the tour will cost $25 before Dec. 5th and $30 on that date.
Four houses, each representing a different century, will be featured: a 1754 stone house, an 1842 public meeting house, a 1952 Colonial and a 2010 custom-designed home. The older homes have been restored and/or expanded while maintaining their historical character; the 21st century house is a large, custom-designed home affording every modern option. The tour will be self-guided, but minibuses based at Trinity Church will facilitate access, and parking will be available near some homes.
The MarketPlace will offer 15 vendors from local businesses, numerous handmade crafts and collectibles, a Woman's Club bakery, tour tickets, a lunch and dessert concession and a silent auction of high-value merchandise and services.
All proceeds of the Homes Tour and MarketPlace will be donated to local charities and nonprofits, as well as used for scholarships and education. For more information, contact a Woman's Club member at 703-556-0197 or visit the club's website, www.mcleanwc.org.