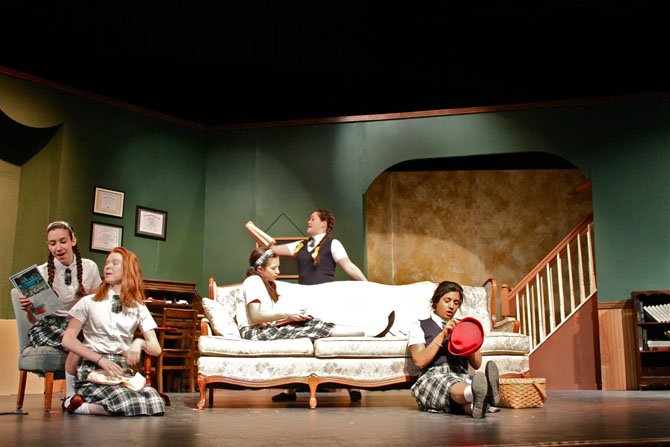 A dainty redhead who pops into a room with daffodils behind her back is yelled at by one teacher after another until she feigns a heart attack.
Two female teachers struggle with their friendship before one of theirs impending nuptials.
A vicious rumor causes turmoil within a farmhouse turned boarding school.
ACT BY ACT, "The Children's Hour," a Langley High School play running from April 3 through April 5, unfolds into a take that is relatable despite taking place in the 1950s.
"It follows two women who run the school," said senior Kathleen Welch, 17. "It navigates how words can hurt - the power of gossip."
Welch plays one of the lead roles as Martha Dobie, a school teacher who is jealous that her best friend is spending all her time with her fiance. Her best friend, Karen Wright, is played by senior Madeleine Chalk, 18.
"It's during a time period where the topic would have been more sensitive than it would be today," said Chalk. "A malicious person spreads a rumor that her two female teachers are having an affair. Especially in high school, you never know how far a rumor can go. A lot of people don't know how destructive their words can be."
Although it is set in the 1950s, the play was written by Lillian Hellman in 1934.
"She was way ahead of her time," said drama teacher and theater director Valerie Karasek.
The play was so far ahead of its time that it had a recent run in London's West End with the leads played by Keira Knightly and Mad Men star Elizabeth Moss.
She said the nature of the rumor would have "brought someone's school down in a heartbeat" in the early to mid-20th century, and it tears apart the two women who scrimped all of their savings to renovate an old farmhouse in New England into a boarding school
Karasek said the play is a tragedy and does have a sad ending. However, audience members remember what they saw for days to come.
"Lillian Hellman makes you think," she said. "You don't walk out being able to forget it."
The play touches on the anti-bullying message schools have been pushing for the last few years.
She had other reasons for choosing "The Children's Hour" as the 2014 spring play, however. She just started teaching at Langley High School this school year and knew the school enrolled a lot of girls. Just like the fall play, "Little Women," she wanted to have a performance that had female-heavy roles. The Children's Hour fit the bill - it only has two male characters, both of which are double casted to give more boys the opportunity to be in the play.
She said when she had her drama class read it, the play was an instant hit with all of the students.
"I think it's relatable to everyone," said junior Nick Regan, 17, who plays one-half of Karen's fiance Doctor Joseph Cardin. "Even though it takes place at a different time, the story is timeless."
Regan says his character knows how to stay calm during a crisis because he is trained as a medical doctor. However, that strength snaps during the third act because of how the rumor affects him.
"There is a very visible character arc in each of the characters through the three acts," he said.
THE PLAY begins at 7 p.m. on April 3 and 4, and at 2 p.m. on April 5. General admission is $10. For patrons that want to pay in advance, tickets are sold at lhschildrenshour.brownpapertickets.com with a surcharge. More information about Langley High School's theater program can be found at http://saxon.saxon-stage.com/.