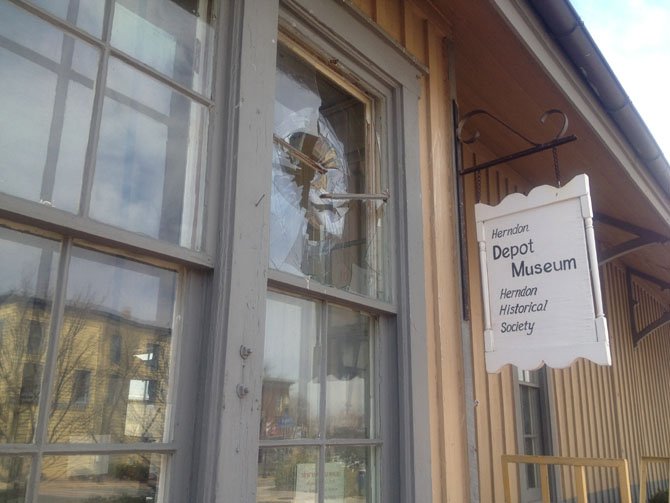 On April 1 police from the town of Herndon were visiting locations in downtown Herndon which had been vandalized. The glass back door to the Herndon Fortnightly Library was shattered, and windows to the Herndon council chamber building were further destroyed. On Friday night, Jan. 17, large windows around the outside of the Herndon Town Council Chamber building had been smashed. Also vandalized was the historic Herndon Depot Station and the glass windows of the Herndon caboose, a local landmark.
"I was shocked to hear that there has been another episode of vandalism in the town," said Signe Friedrichs, executive director Council for the Arts of Herndon. "Usually Herndon is pretty low-key and vandalism has always been rare… I really hate to hear that the Depot was damaged. It's a lovely little historic building and can't be repaired back to the way it was. I hope they catch whoever did it so this doesn't continue to happen."
"Several cyclists have made reports of broken Corona beer bottles and glass along the trail between the caboose and near Fortnightly Library," said Beth Meyers, co-owner of the Green Lizard. So far no damage has been reported to any private businesses.
"I'm extremely disappointed someone would cause this destruction of public property," Del. Tom Rust (R-87), a former mayor of Herndon, said. "We have such a wonderful town and the fact that someone would want to do this is inconceivable. It will cost taxpayers money. I trust the police will find the person(s) involved and justice will be served."
"Hearing of the vandalism this morning in the Town of Herndon is very disheartening," said Lauri Swift, Director of Membership & Marketing for the Dulles Regional Chamber of Commerce. "This community works so hard to make Herndon a beautiful and inviting place for visitors and residents." For a community that has long enjoyed a small-town charm, these acts of vandalism are rare. Police hope witnesses will come forward this week. Anyone who observed anything related to this incident can call the police department's main number at 703-435-6846.