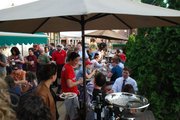 Rocklands Barbeque and Grilling Company in Arlington will kick off the patio season with a special evening of food and drink to benefit Doorways for Women and Families on Thursday, April 17, from 5:30 to 7:30 p.m. Guests will mingle on the patio munching on pork pulled from a whole roast pig and fresh oysters roasted over a wood fire. Rocklands will tap a keg just for the event and offer happy hour specials from the bar.
Rocklands is donating all the food and beer, so 100 percent of the ticket price goes directly to support Doorways' families and programs. Tickets to the event are $35, and may be purchased through the Doorways for Women and Families website (http://bit.ly/1dmJwGy) or at the door. Ticket price covers a half-dozen grilled oysters, pulled pork and beer (or non-alcoholic beverage). Raffle tickets can be purchased for $5 (5 for $20); prizes include gift certificates to local restaurants and shops, DC United gear and more. Space is limited to the first 250 guests.
Rocklands is encouraging outrageous tipping for the bartenders, as all cash proceeds will go to support Doorways for Women and Families.
The event will be held rain or shine. Rocklands Arlington is located near Virginia Square Metro station; the 38B bus stops in front of the restaurant, and there is off-street and on-street parking available.
See www.rocklands.com.