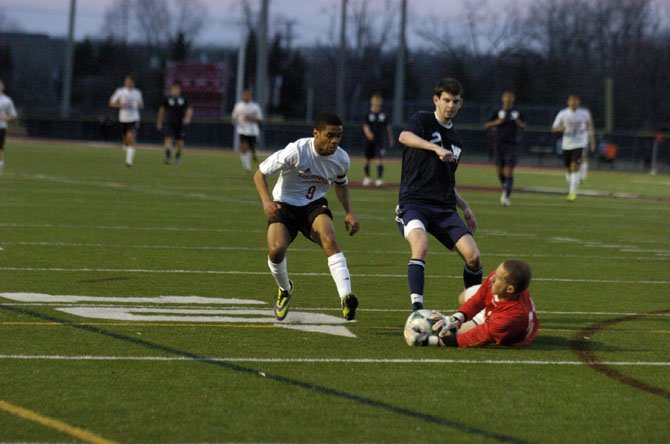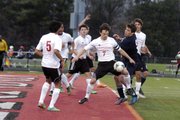 During the first half of Friday's Herndon-Woodson boys' soccer match, someone from the Woodson sideline shouted: "Tight marks! Don't let 9 have space!"
The No. "9" referenced was Herndon senior Brian Maye, the Hornets' primary goal-scoring threat. And after Herndon fell behind 1-0 early in the second half, Maye made sure no amount of defensive attention would keep him from making an impact.
Maye netted the equalizer in the 57th minute and added an empty-netter late in the contest as Herndon improved to 2-0 with a 3-1 win over Woodson on March 28 at Herndon High School.
With the Hornets trailing 1-0 in the 57th minute, Maye poked the ball away from Woodson goalkeeper Brian Breslin and scored the game-tying goal.
"It was a through ball and I took a couple positive touches," Maye said. "As [Breslin] came up, I got one last small touch and that was all that it took because it caught him off guard."
Herndon junior Zouhir Warid lobbed the ball over Breslin's head for the go-ahead goal in the 62nd minute before Maye added an insurance goal in the closing moments.
"He's a very mature player," first-year Herndon head coach Guillermo Tolaba said about Maye. "He loves the game and he loves to learn. He's in the learning process now. He has to adjust to a few positions he's not used to. You saw the guy, he's very explosive and he's hard to stop when he puts his mind to the game. He's going to be a very dangerous player for any team."
Maye said he will play soccer at either Shenandoah University or the University of Scranton.
"He's the best coach I've played for. … I feel like I'm progressing more, I'm developing more, just simply by what he tells me."

--- Herndon senior Brian Maye
After a scoreless first half, Woodson jumped out to a 1-0 lead in the opening minute of the second half when junior Carlton Wasike scored following a deflected free kick. Herndon battled back to take a 2-1 lead, but the Cavaliers made things interesting in the closing minutes. Woodson had five opportunities in near the end of the second half (two corner kicks, two long throws and a free kick) but Herndon managed to survive.
"I was freaking out," Maye said. "… I was thinking to myself, 'Just clear the ball.'"
Tolaba is in his first season as Hornets head coach. He used to coach at Potomac Falls High School and also coaches club soccer in Herndon. He takes over a program that won the Concorde District in 2012 and finished 9-3-3 last season.
"He's the best coach I've played for," Maye said. "… I feel like I'm progressing more, I'm developing more, just simply by what he tells me."
While the Hornets have won both their games and each of their two scrimmages, Tolaba said there's room for improvement.
"I'm not happy with the way we played," he said after the Woodson game. "What I liked from my team is that they have the fire to come back. We cannot afford to play catch up anymore. We spend extra energy playing catch up."
Herndon will host Oakton at 7 p.m. on Thursday, April 3. Oakton won its first three games this season. Last year, the Cougars finished 18-1-2, winning the Concorde District and Northern Region titles before losing to Cosby in the state semifinals.
"I expect a little bit more form my seniors," Tolaba said. "I expect a little bit more maturity from my seniors. … We're going to go as far as our maturity lets us go."