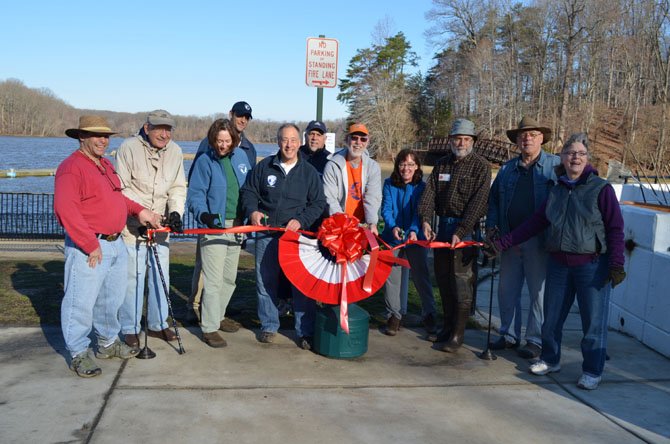 Lake Accotink Park visitors can now show how much the park means to them, and lend their support via a secure donation box installed at the Lake Accotink Marina. Friends of Lake Accotink Park (FLAP) President, Tony Vellucci, led an inauguration ceremony for the donation box prior to the Spring Watershed Cleanup Day April 5.
Vellucci introduced Jim Hickey, former FLAP President and Park Authority Elly Doyle awardee for his sustained support of Fairfax County parks, noting that Hickey was a key individual in making the donation box a reality. Donations are voluntary and will be used by FLAP toward stewardship and recreational park projects.
Lake Accotink Park needs public support more than ever as recent budget cuts have reduced staffing, and further cuts are proposed to Fairfax County's three lakefront parks to help balance the FY2015 county budget. Lake Accotink is slated for the elimination of the Park Supervisor position. The FY2010 budget resulted in the reduction of seven full time staff positions to five. Of those remaining five positions, three were re-allocated to Park Operations, leaving just two full time merit staff to operate the park. Vellucci noted, "Cuts made in previous years are already straining staff and, if anything, should be reversed."
FLAP encourages all citizens who care about Lake Accotink Park to promote this community asset in these challenging times by:
Making the donation box a success,

Communicating with elected officials about budget cuts, and

Joining Friends of Lake Accotink Park.
Further, this year, Lake Accotink Park is due for the first rewriting of its Master Plan in 21 years, the last Master Plan being approved in March 1993. A Master Plan represents the long range -- 10 years or more -- plan for a park's development and is the guiding document upon which park projects are based; if a project is not included in the park's Master Plan, it does not have a good chance of being funded. Vellucci encouraged citizens to take the opportunity to attend upcoming public meetings and provide input on their vision for Lake Accotink Park.
Information links: Friends of Lake Accotink Park - http://www.accotink.org/FLAP/