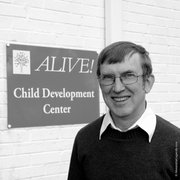 Alexandria — The two volunteer positions not-for-profits find hardest to fill are those of recording secretary and treasurer so it is not surprising that once ALIVE! (Alexandrians InVolved Ecumenically!) tapped Richard Glassco for the position of treasurer, he has remained in the position for 23 years. During that time ALIVE!, which was founded in 1969, has grown from an all-volunteer organization to one with volunteers from about 40 faith communities, a $1.3 million budget and about 14 employees.
It is a complex operation and Glassco has broken the budget into three fully-developed components. The child development center at First Christian Church is a pre-school program for low income parents who pay on a sliding scale fee. The ALIVE! Shelter for homeless women and children provides housing for longer periods than at a regular shelter. The Family Assistance division provides monetary assistance for medicine, rent and utility payments as well as emergency food deliveries and the last Saturday of the month program which distributes food from three sites. In addition, the organization collects furniture and housewares for people in need.
He is proud of the fact that they keep administrative costs low. As part of his work as treasurer he writes all the checks to landlords, utility companies, medical providers and providers of services to various ALIVE! programs. He also acts as bookkeeper, recording all income and expenses by program and category. He makes quarterly reports in all three areas and comes up with an annual budget, "a big deal," he said. His wife Sarah noted that he gives these reports in a way people can understand and added that the amount of work involved has grown tremendously over the 23 years.
GLASSCO GREW UP volunteering. His father was a Presbyterian minister in Ohio and from childhood he was involved in church works and in scouting, becoming an Eagle Scout which "makes a big deal of service projects," he said. After he graduated from college in 1976, he moved to Alexandria, where his parents had already moved, and joined Immanuel Church-on-the-Hill, where he has been a member for 34 years. Immanuel was one of the original founding churches for ALIVE! and he was recruited by activist Danie Bradford to join ALIVE! as church representative. He later became vice president and president before taking on the role of treasurer.
"I am not intimidated by dealing with numbers," he said. "I can be really useful," whether that usefulness is setting up more and more sophisticated spreadsheets on the computer "a natural for me" or planning budgets of over $1.3 million a year.
He has been just as active at Immanuel Church-on-the-Hill as a vestry member in charge of worship, a choir member for 30 years, a Sunday School teacher and a frequent worker at Immanuel's famous yearly pumpkin patch. His membership in choir was a natural choice because he has been singing all his life and learning a variety of musical instruments. He started with piano and took up clarinet, tenor sax, the Celtic harp, recorders and dabbled with the bagpipe.
Living Legends: The 2014 Project
Living Legends of Alexandria is an ongoing 501(c)(3) photo-documentary project to identify, honor and chronicle the people making current history in Alexandria. The project was conceived in 2006 to create an enduring artistic record of the people whose vision and dedication make a positive, tangible difference to the quality of life in Alexandria.
Platinum and Gold sponsors this year are the Alexandria Commission for the Arts, Alexandria Toyota, Club Managers Association of America , Goodwin House, Inc., Gregg & Monica Murphy on behalf of Senior Services of Alexandria, Linda Hafer and Nina Tisara.
This is one of a series of profiles that will appear this year. For information, to volunteer, become a sponsor or nominate a future Legend, visit www.AlexandriaLeg... or contact Legends@Alexandri...
HE AND HIS WIFE Sarah met at a Scottish Country Dancing group in Alexandria where he discovered she was as interested in music as he and said "we enjoy making music together." They got married in St. Paul's Episcopal Church in Alexandria in 1980 and there was Scottish country dancing at their wedding. His interest in Scottish dancing began when he saw a demonstration at the Virginia Scottish Games which also encouraged his interest in the Celtic Harp.
His love of mathematics from childhood led to his career with computers, his involvement with ALIVE! as treasurer, and also his mentoring of children sharing both his love of numbers and his skills. His employer, Noblis believes in community involvement and supports the Higher Achievement program, so Glassco volunteered to work as a math mentor with students every Monday night at Hammond Middle School. He tutors two to four students at a time and finds it encouraging to see students all the way through the program.
He and his wife Sarah moved to the Seminary Valley in 1984 where they brought up three daughters which led both of them to get involved in the world of children. He became chair of the T.C. Williams Band Boosters and chair of the T.C. Williams Drama Boosters. His interest in music led him to be a chorus member of the Washington Christmas Revels in 2009, 2011 and 2012 and a cast member of the Gospel of Mary in 2009.
Where does he find the time to hold down a demanding job and do all this? "I watch zero television," he said chuckling. "Zero sports which leaves me out of the conversation." In a more serious vein, he said he has had a hard time saying no and that he has "never known another way of getting along."
And he even finds time to just relax, canoeing and kayaking at Dykes Marsh near the Belle Haven Marina, on Cameron Run and Hunting Creek, along with other nearby bodies of water.
WHILE GLASSCO believes his faith inspires his volunteering, he also believes in getting involved in local politics which he feels is very consistent with the idea of service and working with the community. His political involvement grew out of his conviction and is another way of helping people.
"I believe the party I support is much better for poor people," he said, leading to his involvement in voter registration drives and canvassing for the recent gubernatorial race and the past two presidential races.
Glassco will continue to donate his time and considerable talents in various ways throughout the Alexandria community he is committed to making a better place to live and thrive. Whether he is balancing the books for ALIVE!, singing in the church choir or teaching middle schoolers the joys of mathematics, he will be making a difference.