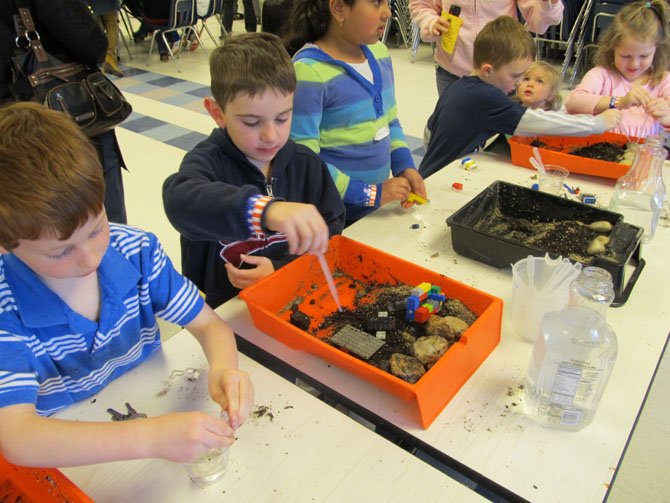 On March 20, Orange Hunt Elementary School revamped its former Math Night into a STEM Night that rocked the students and the community into an evening of learning and fun for the whole family. What began as a somewhat daunting endeavor, our new, small, STEM Planning Committee, which consisted of a half dozen science and math teachers and another half dozen of parent experts and scientists, planned an evening with over 20 hands-on experiments, activities and demonstrations aimed to educate students and community in the areas of Science, Technology, Math and Engineering.
As theme of our first STEM Night experience we used the Winter Olympics. We divided our 20+ activities into six stations: a Building and Engineering Station, an Estimation Station, a Strategy Station, a Conservation Station, a Coding Station, and a Demonstration Station. The Building and Engineering Station featured eight marble runs from The Science Place, toothpick-marshmallow architecture design, and cup stacking. Our Estimation Station featured measurement activities from The Science Place, scales and balances, a butter mint jar, recycled paper bags to weigh and bean pictures to cover…so much fun. Our Strategy Station featured strategy games, toothpick puzzlers, and paper bridge building. The Conservation Station featured Erosion and Composting experiments from The Science Place and a second grade composting petition initiative. Our Demo Station featured microscope viewings, electrical snap circuit building, a nature exploration station, and a Plasma Ball and Vacuum Chamber, all supplied by our parent scientists with permission from their labs. Our Coding Station featured computer programming and hand-on coding in our computer lab by our very own OH Instructional Technologist.
Upon arriving to STEM Night, guests were greeted at the Welcome Station where they received passports to guide them through the station rotations. The Olympic twist helped tie together logistical components of the evening. The six stations became the six countries that won most medals at the 2014 Winter Olympics. The ski post signs wrapped in snow directed guests to the station locations. The Science of the Olympics video was playing on televisions at all locations. Math and science students created posters on the Science of the Olympics which were displayed on walls and tables. Student guests received USA wristbands upon arriving and Olympic gold medals upon completing their rotations (most received these; as our supply ran out, students received flags instead). As an added bonus, over 40 of our sixth grade Orange Hunt students helped set up, clean up, and manage the stations throughout the evening. They certainly earned their service hours assisting a turnout of 500 guests.
The first STEM Night at Orange Hunt Elementary was definitely a success and the positive response of appreciation very satisfying for all of us. The Orange Hunt School-Community connection was very apparent through the consistent support of parents and students who were involved and who participated in the educational evening. It was a beautiful thing to see the school full of bustling excitement and energy until 7 p.m. on a Thursday night…parents, teachers, and students…all learning and exploring together.
Donna M. Jones is Math Lead, STEM Planning Committee, and 4th grade Math, Science/German Immersion Teacher.