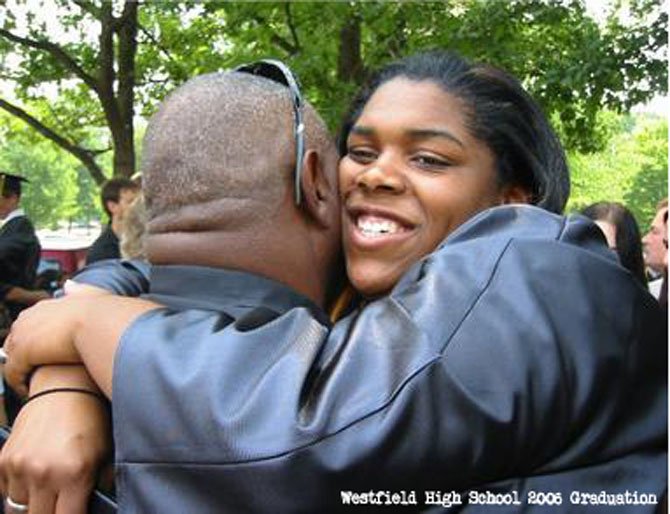 Centreville — Nearly seven years have passed since Centreville's Erin Peterson — an 18-year-old freshman at Virginia Tech — was killed in a massacre there, along with 31 others. But although short, her life counted; and each year, the local community gathers to remember her.
To make sure the Westfield High grad's legacy lives on, her parents, Grafton and Celeste Peterson, established the Erin Peterson Fund in May 2007 to continue their daughter's dedication to education and to helping those less fortunate. They also began an annual Gospel Celebration in her memory and to raise money for the fund.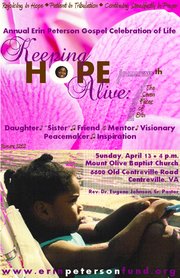 This year, the 7th Annual Erin Peterson Gospel Celebration of Life will be held Sunday, April 13, at 4 p.m., at Mount Olive Baptist Church, 6600 Old Centreville Road in Centreville. The theme is "Keeping Hope Alive: The Seven Faces of Erin – Daughter, Sister, Friend, Mentor, Visionary, Peacemaker, Inspiration."
"The word Gospel means good news, and it is good news that we are spreading in Erin's name and because of the beautiful legacy she left for us," said Celeste Peterson. "Erin was an exceptional person and a wonderful daughter. She had a tremendous zeal for life, a commitment to excellence and a passion for serving others. She made you want to be a better person, and we honor her legacy through the Erin Peterson Fund."

This nonprofit organization awards scholarships and grants to help students with the same dreams and aspirations as Erin. Since its inception, more than $120,000 in grants and scholarships have been awarded.
So although Sunday's event is free and open to the public, donations are welcome. All money collected during the program will help provide further educational scholarships and grants for deserving students.
Each group or individual participating in the celebration will perform two selections. The performers include the Mount Olive Baptist Church Praise Team, as well as Sonya Williamson, a soloist and 14-year member of the church.
Also entertaining will be Voices of Tomorrow (Today), a choir comprised of males, ages 13-25, who are part of the congregation of First Baptist Church of Manassas. This group serves as Mount Olive's praise and worship team on the second Sundays of the month.
Accord Ministries, a small Gospel group from the Word Alive Church International in Manassas, will also perform. These young men serve as Mount Olive's praise and worship team on the fourth Sundays of the month.
Koreakos, a praise team from the Community Praise Center in Alexandria, is participating, too. The group's name means "belonging to God." And always popular is Unspoken Praise from Mount Olive. It's comprised of both male and female teenagers who worship through mime.
"Erin was a woman of faith," said her cousin, Tracy Littlejohn, who's also organizing the event. "She demonstrated her faith by the way she lived her life, how she treated people, supported and encouraged them. She was a true blessing to our life, and we pray that the work of the foundation will be a blessing to others."
Scholarships in Erin's name go to graduating seniors at Westfield and Falls Church high schools or students who attend Mount Olive Baptist Church. And almost 100 percent of the grant money goes directly to Westfield for its Boys Leadership Group Today for Tomorrow, which serves and supports at-risk young men attending that school. For more information about the Erin Peterson Fund, go to www.ErinPetersonFund.org or call 703-830-8769.
"I just think the Gospel celebration is a wonderful way to remember her," said Littlejohn. "It is always such an uplifting experience and something positive for the community. I believe that is why choirs, soloists, gospel groups and liturgical dancers from throughout the region have participated. I am also grateful to the Mount Olive Baptist Church family for their continuous support of this event, our foundation and our family."