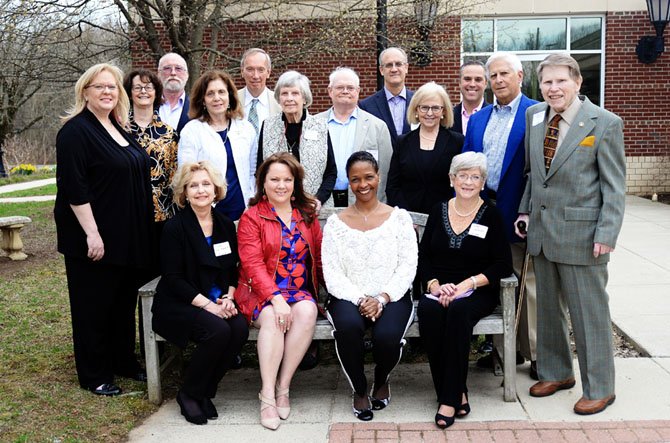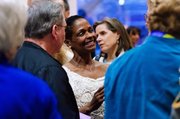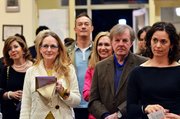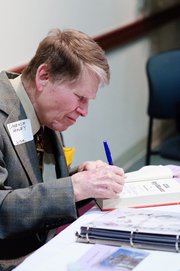 Writers, Readers Learn from Each Other
Jeff Preletz of Leesburg went to the "Evening with the Authors" as a reader, but he left convinced that he, too, is a writer who must finish his first book. He didn't expect the turnout for a Saturday night event at the Great Falls Library to be so great that patrons would spill into the hall and out the front door. But he got what he came for – inspiration from authors to put his ideas in print. "This is no ordinary book signing," he said. "We are conversing with published authors and learning from them."
The Great Falls Writers Group (GFWG) hosted the event that allowed 15 local authors of varied backgrounds and multiple genres to discuss how they ventured into writing, and to sign and sell their books. The event was a cross-pollination of ideas from patrons and authors alike.
The GFWG consists of published and non-published writers of all genres, from all experience levels, and from all backgrounds and professions. Members share their experiences and encourage others to grow their writing skills, find their audiences, enter new writing genres, and get published.
"Writing is a solitary business," said Brent Glenn, an attorney who lives in Great Falls. "An event like this is a great idea for us writers to meet like-minded people and share ideas." Glenn is no longer a closet writer. The law professional has written nine books with his wife, Rebecca, and they want to start their own publishing company. The Glenns want to join the GFWG as a means to share writing experiences and – more importantly to them – learn from others.
Many patrons arrived at the library before the three-hour event started, eager for the opportunity to talk to writers about fulfilling a life goal or dream. The audience asked questions such as whether an outline is necessary to write a book. Authors concurred that outlining is an essential step of writing workflow. They explained that in some genres, such as fiction, a detailed outline is crucial, but in other types of writing less structure may be required.
Kristin Clark Taylor, former White House Communications Director and GFWG's founder, surrenders herself to her writing. "You learn to rely on an inner voice and an inner balance that allows a symmetry to your work."
Herndon's Chuck Mauro, author of multiple local history books, says that an entire book is in his head before he starts writing. On the other hand, other authors sometimes experience their characters take over and launch the writer on a journey unforeseen when the wordsmith first sits down to type.
Authors were equally motivated by whom they met, too. Patrons genuinely interested in learning a lot about many topics inspired author Sharon Rainey. Other authors attending the Evening with the Authors inspired social media guru Jennifer Abernethy to try another genre, such as screenplay writing.
Most authors concurred that their book sales for the evening surpassed what they'd ever sold in a single evening. "Even if I sell nothing, if I have good dialogue with those who visit and I learn something from them about what they hope to read in a book or a new source for information, then I have a successful evening," said Mauro, whose books about local history are found at many local cultural sites. Mauro joins the GFWG as he ventures into new territory – fiction writing.
Conversing with youngsters was the evening highlight for Lin Story and Lesley Hackman, who collaborated on their book "Bearabesque and the Humility Slippers." "One child couldn't wait to read our book, but she shared that she is writing her own books, too. Her father confirmed his daughter is indeed writing her own stories," said Story. "We must inspire children at an early age," said Hackman.
"I hope we don't have to wait a whole year before we have another event like this," said patron Rebecca Glenn, whose comment was echoed throughout the night. "I can't wait that long. And one day, I want to be part of it, too."
Craig Gralley, a GFWG member, feels that events like the Evening with the Authors build momentum within a community.
"We have established an intellectual writing community in Great Falls," said author Dr. Michael Hattwick. who finds GFWG meetings affirming. "This group is not interested in what you're writing as much as that you are writing." The GFWG meets twice a month at the Great Falls Library.
Christina Tyler Wenks is a journalist who is presently illustrating her first children's book and is writing books for older readers.