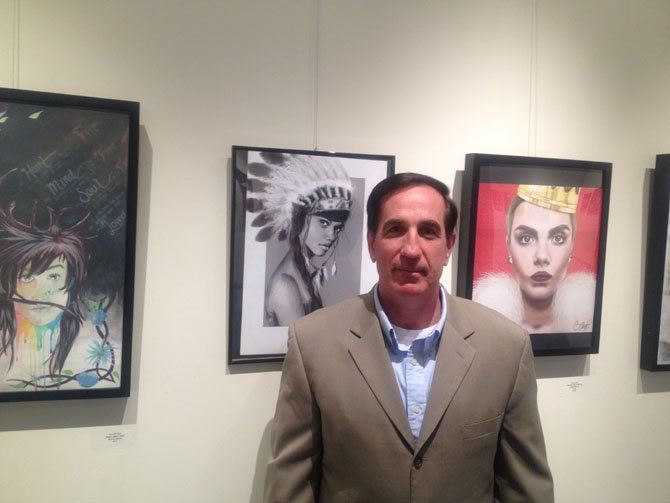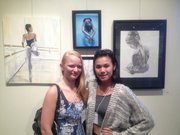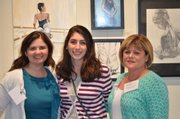 Every spring art teachers at Herndon High School invite senior artists to participate in a juried art show at ArtSpace Herndon, the community art gallery created and supported by art lovers in the greater Herndon area. The exhibit includes paintings, photographs, drawings, and sculpture. "The show is a chance for our art students to show their talents, and they are talented," said Herndon High art teacher Alexa Mamatas, a 2008 graduate of Herndon High.
Students show paintings, photographs, drawings, and digital art. This show was juried by professional local artist and teacher Melanie Stanley, Jeanette Burkle Galie of Galie photography, and Richard Suib of Richard Suib Images. "I think it is a great opportunity for other people to see our art," said Herndon senior Saif Siraj, who has a computer-generated image on display in the exhibit. "The picture took about a week to make," said Siraj.
"This show is a real honor for the kids to show their work in an art gallery," said Herndon High art teacher Kathleen Adams. "It is wonderful that ArtSpace hosts this." This is the fourth year that ArtSpace Herndon has hosted this exhibit. For some parents and students, this exhibit was an introduction to the community art gallery. "This is my first time exhibiting at an art gallery," said student Laura Bentley.
"I think it is cool to see my friends works on display," said Herndon senior John Strangfeld. Stangfeld has four drawings on display in the exhibit, three done with charcoal and one composed with graphite. "I really work best in black and white as opposed to painting and colored pencils," said Stangfeld. Although Stangfeld does not see himself taking up art as a profession, he may enroll in art classes when he begins college at the University of Mary Washington.
A reception was held at the gallery on April 10, with teachers, family and friends attending. "I did a lot of art back in high school and these guys are phenomenal," said ArtSpace volunteer Liz Zidel. "They are so visually oriented that their design capabilities are better than mine."
"It is a great way to allow the community to see the students as artists and also support that endeavor," said Herndon High art teacher Tammy Morin. The exhibit at ArtSpace Herndon shows the work of 40 Herndon High students and is open to the public. Located in historic downtown Herndon, ArtSpace Herndon is operated by the Herndon Foundation for the Cultural Arts, and attracts artists and performers at local, national, and international levels. The 2014 exhibit of Mind Heart Vision is on display from April 9 to April 27. To learn more about ArtSpace Herndon, visit www.artspaceherndon.com.