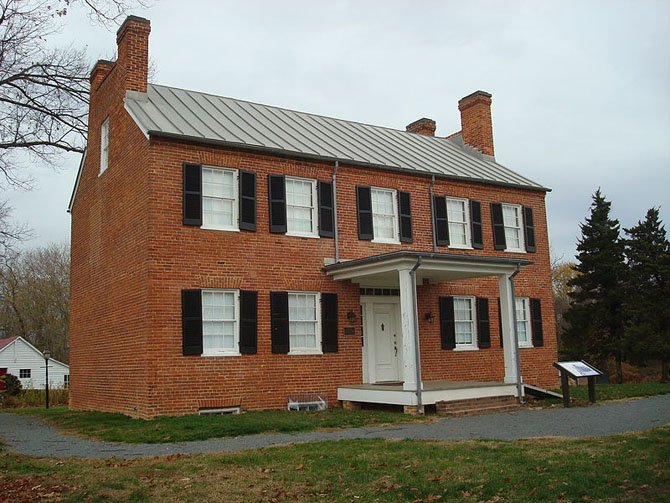 Antebellum Virginia will come to life during Fairfax Civil War Day. Featuring wagon rides, cannon firings, house tours and a soldier encampment, it's set for Saturday, April 26, from 10 a.m.-5 p.m., at Historic Blenheim, 3610 Old Lee Highway in Fairfax.
Attendees will even meet special guests dressed as Clara Barton, Gen. James Longstreet, Gen. and Mrs. Robert E. Lee, Col. John S. Mosby, Union nurse Marilla Hovey and a Yankee schoolmarm.
A brick farmhouse built by Albert Willcoxon around 1859, just before the Civil War, Blenheim contains one of the largest and best-preserved examples of Civil War inscriptions in the U.S. – a veritable diary on its walls, giving glimpses into a typical soldier's life during the Civil War. It's a national treasure because of the more than 120 signatures, artwork, games, thoughts and poetry that Union soldiers scrawled on the home's walls in 1862-63 when they occupied the Fairfax courthouse area.
The 12-acre estate features historic buildings and beautiful views whisking visitors to a bygone era. Blenheim also illustrates the Civil War's effect on local residents such as the Willcoxon family. House inscriptions and pictographs are reproduced and discussed in detail in the replica attic with full-scale images on display in the Civil War Interpretive Center.
Visitors may meet Civil War re-enactors, the 17th Virginia Infantry, "Fairfax Rifles," and there'll be a beginners' boot camp, too. A variety of activities will include demonstrations of blacksmithing with an 1862 traveling forge and the firing of a Howitzer cannon artillery gun.
The event includes the program, "Freed: Portrayals of African-American Women," displays of fashionable antique accessories and jewelry, the Black Horse Cavalry, and Marion Dobbins discussing "African-American Contraband Camps."
Talks will be given on Civil War railroads, medicine, slave life and soldiers. And an exhibit of the works of famous German-American caricaturists Thomas Nast and Adalbert Volck will be displayed in the Civil War Interpretive Center. Red, Hot and Blue will have food for sale, and there'll also be live, period music and dancing.
The City of Fairfax purchased the Blenheim house and its surrounding land in 1999. And guided tours of the home's first floor and its famous soldier graffiti will be offered on Civil War Day from 11 a.m. to 2:45 p.m.
Admission is $5, adults; $3, children ages 3-12; children age 2 and under are free. Proceeds benefit the restoration of the Historic Blenheim Estate. Free parking and shuttle service, including handicapped access, will be available at Fairfax High, 3501 Rebel Run.
The City of Fairfax, Historic Fairfax City Inc. and the 17th Virginia Infantry, Company D "Fairfax Rifles" are putting on this event. For more information – including directions and a schedule of events – go to www.fairfaxva.gov or call 703-591-0560.
Blenheim is closed Sunday-Monday, but is open to the public Tuesday-Saturday, from 10 a.m.-3 p.m., with guided tours of the first floor available at 1 p.m. Admission is free.