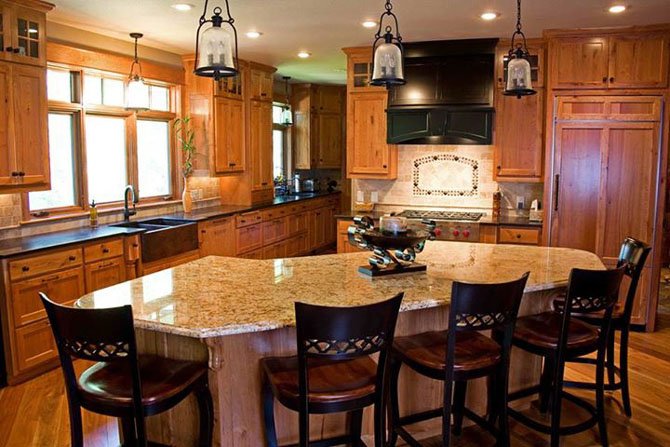 Designer Jacquelin Lluy, of Nicely Done Kitchens and Baths in Springfield, recently transformed the kitchen of a home in Mantua, in Fairfax, from a small, dark space to a light-filled, free-flowing culinary oasis.
"The kitchen was built in the '70s with a small, dark eat-in kitchen table for four," Lluy. "The family wanted a view of their expansive wooded lot and an island built for entertaining and family meals with their young boys."
The new kitchen includes an island made of maple. "The two-height island has a 'truffle' finish [and] was designed for game nights, football watching, entertaining friends on the higher level while the lower level is used for quick weekday meals and easy clean up with sink, trash/recycle and dishwasher located there."
BEFORE PUTTING ONE'S HOME on the market, real estate agents encourage homeowners to spruce up the kitchen. Well-designed, free-flowing kitchens like Lluy's can often make or break the sale of a home say some local Realtors.
"I think a kitchen is one of the top things that a buyer looks at," said Arlington Realtor Michelle Sagatov of the Michelle Sagatov group at McEnearney Associates.
Alexandria-based Realtor Elizabeth Lucchesi of the LizLuke Team at McEnearney Associates said, "Kitchens are the nucleus of the house. It is where everybody hangs out. The kitchen has to look good and feel good."
Ken Nies, of Two Poor Teachers in Annandale, recently remodeled the kitchen in a Falls Church home adding "custom window millwork, lighting, a backsplash, a large center entertainment island and farm sink." Nies advises using "different materials on your island to give a custom look."
Realtors suggest investing in quality cabinetry and countertops. "Granite is something people look for but there are other materials that people can use like caesarstone and quartz," said Sagatov. "Choose nice, solid counter tops that compliment the cabinetry."
FOR THOSE WHO WANT to update a kitchen and think they will be selling their home within five to seven years, Sagatov suggests that homeowners think about the resale value before remodeling. "Make the kitchen timeless," she said. "Don't put too much of your personality into the kitchen. If you want to show off your personality, do that with paint or kitchen decorations, but make the things that cost a lot of money neutral and timeless, so when you go to sell your home, it appeals to a much broader audience."
If you plan on renovating the kitchen, do it early, "not when you're about to sell so that you can enjoy it too," continued Sagatov.
HOWEVER, ONE DOESN'T need to remodel an entire kitchen before putting a home on the market. Real estate agents say there are a few changes that homeowners can make to help their kitchen sparkle.
"If you don't have an updated kitchen there are things that you can do to make it look updated, clean and fresh," said Sagatov.
Make sure the kitchen has matching appliances that are in good working order. "It doesn't matter if they are stainless steel, black or white as long as they match," said Lucchesi.
An open kitchen appeals to buyers. "Having a kitchen area where you can cook while spending time with family, is important," said Lucchesi. "Having it open into a living area allows the cook to be connected to others."
Don't underestimate the power of lighting. "Under-counter mounted lighting makes all the difference in the world," said Lucchesi. "It gives the illusion that you have a lot of countertop space when in reality maybe you don't."
Spruce up dated cabinetry. "Painting cabinets a crisp white goes a long way," said Sagatov. "A lot of older kitchens have dark wood. Putting a coat of fresh paint and new hardware goes a long way and is an investment that gives you so much money back."
Sagatov said, "Another easy fix would be painting the walls. Taupe or grey paint on the walls in the kitchen would be soothing and go well with the white cabinets. Those fixes don't cost a lot of money."
Fixtures are another minor element that can make a big impression.
"Make sure that cabinet pulls are updated with materials like glass or brushed nickel," said Lucchesi. "Great faucets are like a nice pair of shoes or a good belt."
Lucchesi speaks from experience. "We sold a 1940s house recently with a small kitchen," she said. "We added new appliances, a new faucet, new cabinets and it sold for $24,000 above the list price in four days with seven offers."
"When enhancing a house for sale, you want to appeal to the broadest audience," said Lucchesi.
Polished and updated kitchens create appealing pictures.
"Sexy kitchens photograph well," said Lucchesi. "When people are looking at kitchens in online photos, we don't want to give them a reason to tell their agent, 'No I don't want to see that house.'"