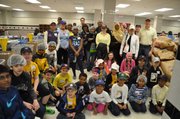 More than 200 students, families and teachers of Waples Mill Elementary School plus one Fairfax County Public School Board member participated in a community service "meal packing" event in partnership with Stop Hunger Now on Saturday, April 5.
The Science Technology Art Music and Performance (STAMP) for service to the community Committee sponsored another successful community service activity. On Saturday, April 5, at Madison High School in partnership with Stop Hunger Now, more than 200 Waples Mill students, parents, and teachers, as well as Fairfax County Public School Board member Pat Hynes, volunteered their time to fight global hunger. The event started with a brief lesson about malnutrition and a cheer by Waples Mill cheerleaders. The participants then filled bags with soybeans, vegetables, rice and vitamins; weighed and sealed the bags; and loaded them into a large truck.
During their shift they helped pack 64,152 meals that are destined for 16,000 children in 175 communities in Nicaragua.
This STAMP Committee meal packing event follows a successful MLK Day of Service and will continue in June with several volunteer activities, including Cody's Hats, at the 2014 Inspirational Museum on June 9. The goal with STAMP is to make Waples Mill a leader in children's philanthropy, with a focus on age-appropriate volunteerism that will change the hearts and minds of their students, making them 21st century philanthropists and leaders.