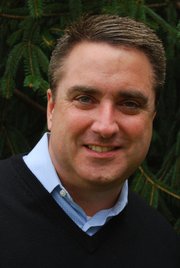 Scott Silverthorne was raised in a political family, so it's no wonder he's been involved in leading the City of Fairfax for two decades. He served 18 consecutive years on the City Council, is now completing a two-year term as mayor and is running for re-election.
His father was a Fairfax planning commissioner, councilman and mayor. Meanwhile, Silverthorne attended City schools, graduated from Fairfax High and obtained a degree in marketing from Radford University. He's worked in government relations and, most recently, he's done executive-search consulting. But politics has always been in his blood.
"In 1990, at age 24, I was the youngest person ever elected to City Council," said Silverthorne. "The top six vote-getters win, and I was the top vote-getter in eight of the nine elections I was in. I left in 2008 because I thought it was time for new blood, Mayor Lederer wasn't leaving and I'd accomplished all I'd wanted on City Council."
HE COUNTS Fairfax's parks and open-space initiative, including ball fields, as his biggest achievement on the Council. It was his idea and 70 percent of the voters supported it. "It added 20-percent more parks and open space for the City," he said. "For example, open-space money bought the land for the Stafford ball field and the Downtown Park."
Fairfax purchased land from the end of 2000 until 2005; some was left undeveloped and some became ball fields. "And we often bought land for community, pocket-parks," added Silverthorne. "Around 1998, we bought the Blenheim estate – 12 acres of open space."
He said people live in the City because of its services. "The community focuses on value for its tax dollars, including free leaf, trash and large-item pickup, snow removal and recreational activities," said Silverthorne. "We also operate our own bus system to the Metro and GMU. And all these things add to the City's quality of life."
Approximately 50 percent of Fairfax's budget entails fixed costs – schools, social services, courts. "We have a AAA bond rating and our real-estate taxes are one of the lowest in the area. Only Alexandria and Arlington are lower, and not by much," he said. "I'm proud of our community and City Council and I have unanimous support from all the Council and School Board members and every elected official. To me, it's a vote of confidence that the City's moving in the right direction."
During his tenure as mayor, Silverthorne counts the water issue as one of his biggest achievements. "By partnering with Fairfax [County] Water to provide water to the City in perpetuity, we've avoided a 9-percent increase in the water rate, last year and this year, because of the cost of operating a small water system," he said. "Otherwise, maintenance and renovation costs – the capital improvements the system required – would have been about $100 million. And within five years, water bills would have increased over $500/year per residential customer."
The issue divided the Council but, said Silverthorne, "I worked through each member's problem so everyone would be comfortable with whatever decision we made. It's an example of my leadership – I'm direct and honest with everyone and a good listener. We also held multiple public hearings and [ultimately], this Council had the courage to do the right thing – and it was unanimous."
In addition, the City's zoning ordinances are being rewritten, streamlined and simplified so developers and businesses may more easily work in Fairfax. Costing $180,000, the project's being done by an Austin, Texas firm.
"By law, we had to put it out to competitive bid, nationwide," said Silverthorne. "No one from Fairfax bid on it; it needed a special set of skills and experience, and the City didn't have enough people to do it internally. My opponent's facts are wrong because he didn't attend the community outreach meeting about it and doesn't attend Council meetings. It's money well-spent because it'll attract and retain City businesses."
Silverthorne's also proud that the City's unemployment rate dropped from 6.5 percent to 3.8 percent – a five-year low. "It's lower than Fairfax County's 4.0 and dropped a point last month," he said. "So I feel good about our economy and what we're doing to create jobs." For example, since Kmarts closed nationwide, he personally courted Lowe's to come to the City in its space. "It'll hire 250-350 people locally," he said. "Lowe's will be a huge, economic boon to the City."
Fairfax also now requires new residential developments to dedicate a certain number of units as affordable housing. With both commercial and residential developers interested in investing in the City and also redeveloping, Silverthorne said each application will be considered on its own merits. "We'll manage this growth carefully and weigh each project's impacts on schools and transportation," he said. "But we've sent strong signals to the marketplace that the City's a good place to do business."
He's formed a task force on diversity to attract more people of diverse backgrounds to serve on Fairfax's boards and commissions so they'll "reflect the City's population." And he welcomes people to City Hall to talk with him about any issue they'd like.
SILVERTHORNE PLANS to continue encouraging tourism and special events bringing people to Fairfax to patronize its businesses. He also wants to establish a neighborhood-revitalization program for older neighborhoods. "It'll include strong community associations and incentives for people to renovate their homes and invest in their communities," he said.
Fairfax was recently rated one of the top five safest communities in Virginia by Movoto Real Estate, and Silverthorne said the City will continue investing in public safety. He also plans a continued focus on parks, trails and recreation. "I believe we have a quality of life unparalleled in the Washington Metropolitan region, and I'll work hard to make sure it's not put at risk," he said.
Silverthorne's running for re-election "because we have so much work to do and I truly believe I'm the best-qualified candidate to follow through with our community's goals and objectives. The mayor has to know and understand the City and I'm the only candidate in this race who does."