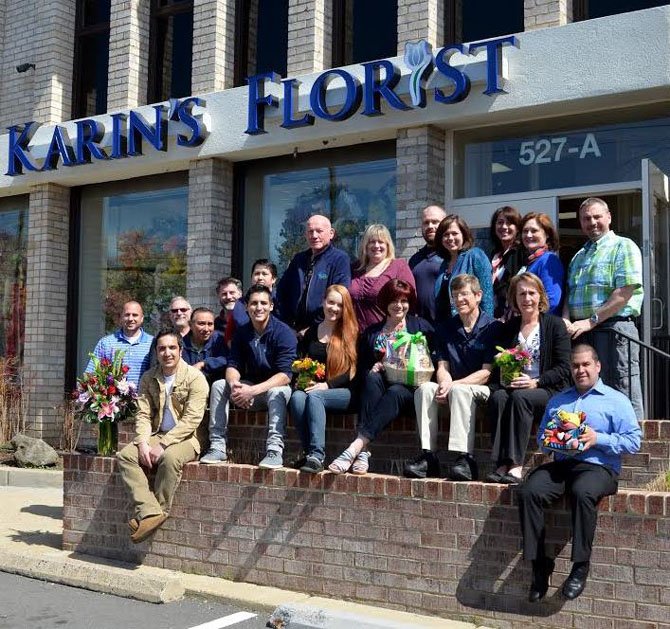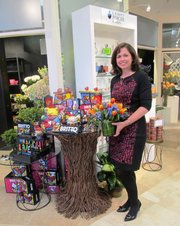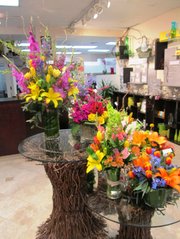 "Flowers are an emotional business. Everyone here works really hard and puts their hearts into all of our orders trying to make sure the customer feels special and unique."
— Maris Angolia, president and CEO of Karin's Florist in Vienna
Family Traditions Blooming
In 2011, Maris Angolia, president and CEO of Karin's Florist in Vienna, was searching for a way to honor her father, Bill Dukas, who founded the floral company in 1956 with his father-in-law George Raptis.
"My father was 83, and I wanted to find a way to show him how much he meant to his longtime customers, how much they appreciated the role our family's flower shop played in their lives over the years," Angolia said.
Angolia held a "Memories" contest, asking customers to send in remembrances of Karin's. Angolia still gets emotional reading the letter from contest winner Susan McCabe, a lifelong Karin's customer.
McCabe wrote about her father, a former Navy Admiral, who was living in Manor Care Nursing Home in Chantilly after a debilitating stroke. McCabe's mother visited her father twice a day.
"Flowers have always been a way in our family to say 'I love you,'" McCabe wrote in her memories letter.
"I asked him if he'd like me to order flowers every month to be sent to Manor Care for him to present to mother that day on her visit. He could say two words, 'Yes sir,' and 'Amen,' so he loudly agreed with a hearty 'Amen.' That began a tradition that lasted several years. On the arrival of the flowers each month he would put them on the tray of his wheelchair and move to the hallway were he could greet his bride with a beautiful bouquet. … Last year mother moved to Goodwin house after living in her home in Falls Church for almost 50 years and being a widow for 17 years. I remembered Dad's tradition and thought he would like me to continue the tradition as a reminder of how much he loved mother. So now each month Karin's again sends a beautiful bouquet to my mother to remind her how much she is loved."
"Unfortunately, my father passed away in May, before the contest ended. That letter would have meant a great deal to my father," Maris said, softly.
BILL DUKAS originally opened the florist in the Seven Corners shopping center with his father-in-law, George Raptis, a Greek immigrant. They started with a handful of employees, and christened the store "Karin's," after his first-born child and Raptis' first grandchild.
"He relished his role serving the community during all the momentous occasions in their lives. Whether they were coming in for a big wedding, a baptism, or a first date, he always treated them like family," Angolia said. "He and my grandfather both held the community close to their hearts."
After 38 years in Seven Corners, Karin's relocated to its present location in Vienna, which more than doubled the space of the old location, and had room for the company's current 25-plus employees. At this point, Maris joined the family business and now serves as its president and CEO.
Despite the changes in the community and the growth of the four-person florist shop, the store has maintained its values in community and family.
"I really wanted to build on the legacy of my father and grandfather's business," Angolia said. "Flowers are an emotional business. Everyone here works really hard and puts their hearts into all of our orders trying to make sure the customer feels special and unique. We have amazing customers."
The shop is well-known for its signature touch on all bouquets and wraps.
"We have professional designers who can take a customer's vision and make it come to life," Angolia said.
Customers also love Karin's made-to-order gift baskets, a popular choice for new mothers, Mother's Day and just about any other occasion. For new mothers, Karin's offers the popular Loukoumi basket, which includes stuffed animals and the award-winning series of autographed Loukoumi books that benefit national children's charities. Angolia, who solicits feedback from teens and other customers as a way to keep "ahead of the trends," offers a signature Prom Buffet, which includes a "Build-Your-Own Corsage" station complete with wristlets, flowers and other corsage bling.
Weddings and other special events are also a large part of Karin's business, and Angolia said she recruits top talent to make sure customers get what they want on their special days. "We just learned that Bryan Swann, our creative director, is currently one of five florists chosen to compete in the Society of American Florists' Vase Off. We're really excited and proud of him," Angolia said.
The Vase Off is a national floral design competition and all-star challenge. Designs will be revealed May 15, and voting takes place May 15-May 29 at http://www.aboutflowersblog.com.
"Of course, we will have all the details on our Facebook page and website, so we encourage people to vote." The winner is announced on May 30.
"Our team works hard, but it's all worth it and very heartwarming when we hear how much those flowers meant to someone," she said.
Like her father, Angolia is actively involved in the community and is the founder of the Karin's Gives Back program, which "supports and promotes the good work of Northern Virginia, Washington D.C. and Maryland based charities."
IN ITS 58 YEARS of business, Karin's has received several awards, including the Fairfax Chamber's 2012 Outstanding Corporate Citizenship Award for small business; the 2013 Best of Fairfax award. Last year, Karin's was also named the "Best Florist in America" by daytime host Steve Harvey in his new Neighborhoods Awards.
"My father and grandfather wanted to open a business that would allow them to support the community and do what they loved," Angolia said. She added that much has changed through the years, "but one thing has remained the same: Karin's has kept its roots in Fairfax County, proudly serving the neighborhood we hold dear."
About Karin's Florist – the store, located at 527 Maple Avenue East, is open Monday through Friday, 8 a.m. to 6 p.m. and Saturday 10 a.m. to 5 p.m., with 24-hour phone service and same-day delivery. For more information on Karin's Florist, call 703-592-0952.