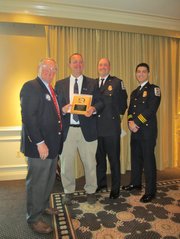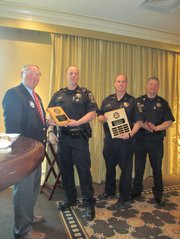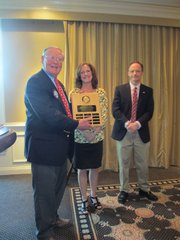 The Rotary Club of Vienna honored Vienna's first-responders of the fire department and police department at its April 23 luncheon meeting at Westwood Country Club. Patrol officer Conor Tracy of the Vienna Police Department and EMT William "Bill" Padgett of the Vienna Volunteer Fire Department were recognized for their outstanding contributions to their departments and to the community with the club's newly-renamed M. Jane Seeman Rotarian Service Above Self awards.
The check Rotary donated to the fire department will go toward paying off equipment and another check to the police department will go towards funding vests and earpieces.
Speaking of fellow officer Tracy, Sgt. T. Farhan said, "He is the epitome of unselfish service … as he is always ready to lend a hand to fellow officers or to relentlessly work cases until a successful conclusion, many times past his regular shift."
Tracy, hired in April 2011, is a patrol rifle operator, a R.A.D instructor, patrol-bicycle certified, and an Intoxication breath-test operator. He is one of the Department's top DWI enforcers and has made some notable narcotic arrests, as well, Farhan noted. In a recent case, assisting narcotic detectives, he conducted a traffic stop on a drug trafficker and seized a sizeable amount of drugs and currency and this led to the arrest of additional offenders that have been dealing drugs in the Vienna area and the seizure of additional drugs. This case resulted in the arrest of numerous offenders and making a positive change in the community.
"He always goes above and beyond on his calls for service assisting citizens," Farhan said.
VVFD Chief John Morrison credited Padgett with his invaluable work with the department's equipment, particularly the antique fire engine owned by VVFD. Padgett, a 28-year Vienna resident, joined VVFD about 18 months ago and has become a EMT - B. He's the department's mechanic.
Vienna Rotary inducted Vienna Mayor Laurie DiRocco as an honorary member during the program and gave a check to Department of Parks and Recreation for scholarships to send eligible kids to the town's summer camps. The Vienna Rotary is 2014's primary sponsor - $5,000 contribution – of Town Green concerts. In its current calendar year, Vienna Rotary is giving back to the community more than $180,000 that it raised from the 2013 ViVa! Vienna!
Vienna Rotarian George Creed suggested renaming the annual "Service Above Self" award in memory of former mayor M. Jane Seeman who died of cancer in February. Seeman, said Creed, epitomized service above self, Rotary International's motto. Seeman's daughter Linda and son Tom stood as Creed, choking up, displayed the new plaques to them. The recipients are awarded a personal plaque and their respective departments are each given a duplicate plaque, as well.
"I like the small-town feel," said Officer Tracy. "You know everyone's names and everyone here is friendly."