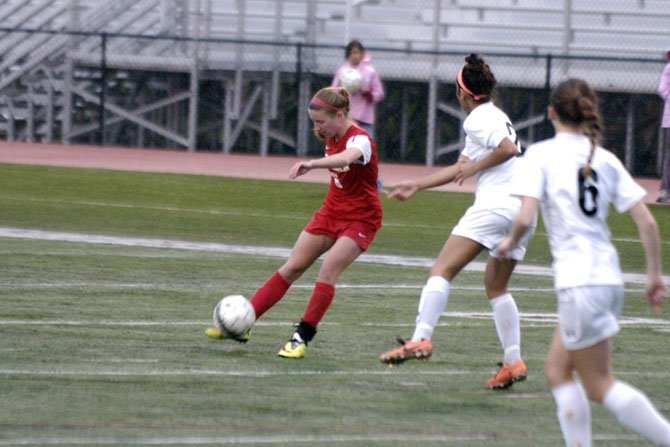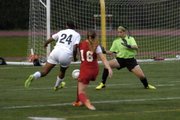 Prior to Monday's match against Conference 6 foe McLean, Madison girls' soccer coach Grant Massey stressed to the Warhawks the importance of containing senior forward Maire Shine, the Highlanders' primary offensive threat.
Late in the first half, Shine had an opportunity to break a scoreless tie, but shot the ball directly at Madison goalkeeper Lexi Graham, who made the save.
Later in the evening, Shine again found herself in position to give the Highlanders the lead. This time, No. 5 showed why she was the focal point of the Warhawks' defense.
Shine scored late in the first of two overtime periods, lifting McLean to a 2-1 victory on April 28 at Madison High School.
"I just needed to redeem myself from the one I missed in the first half," Shine said. "I just knew the clock was ticking down and we tried to take shots, whether it was open or not."
Shine's goal helped keep McLean undefeated with a record of 6-0-3.
"The difference is their one special player who stepped up and made the play," Massey said. "We tried to prepare for her. We certainly focused on her in our pregame talk and everything and she was able to get free. We had about a five-second mental breakdown and [allowed] her to get on her right foot and put it by us."
SHINE, a first-team all-region selection as a junior last season, also assisted McLean's first goal, when sophomore Tess Brookes tied the score at 1-all in the 53rd minute.
"It's just a player wanting to win," McLean head coach Rob Bouchard said about Shine, "and she put her stamp on the game."
"It's just a player wanting to win, and she put her stamp on the game."

--- McLean girls' soccer coach Rob Bouchard about Maire Shine
While Shine came up clutch in overtime, it was Madison that took the game's first lead on a goal by sophomore midfielder Michelle Paredes in the 43rd minute. Usually, one goal would assure Madison of at least a tie as the Warhawks had not surrendered two goals in a contest since tying Herndon, 2-2, in the season opener on March 20. However, the goal seemed awaken the Highlanders, who eventually pulled out the win.
While McLean is undefeated, the Highlanders have scored just 11 goals in nine games.
"I'm just happy our girls responded," Bouchard said. "We can't score a lot, so … we can't put ourselves in many holes."
Part of the reason McLean has been so successful despite limited scoring has been the play of sophomore goalkeeper Lydia Erickson, who on Monday night allowed just her second goal of the season.
"She's been phenomenal all year, let two goals in this whole year," Bouchard said. "… Every time she lets in a goal, she gets upset with herself and works harder the next time."
Bouchard also praised the efforts of defenders Audrey Freeman, Meaghan O'Reilly and Kaela Mahoney.
MADISON has also played well defensively this season. After Monday's loss, the Warhawks have a record of 6-2-2 and have outscored opponents 22-7. Madison scored seven goals against Wakefield on April 8 and four against Lee on March 31.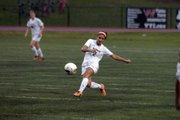 "I think we're typically pretty organized in the back," Massey said. "We struggle scoring goals and struggle creating a lot of chances to. We usually don't give up two --- usually we give up one or zero --- and that keeps in every game. I know we can defend. We're organized, our goalkeeper is very solid and that keeps us in every game."
Massey said senior defender Cia Makrigiorgos and junior midfielder Alia Abu Hawa have been key contributors to the Warhawks' defensive success this season. Senior defender Susie Carter and junior defender Morgan Duffy are also strong players but have battled injuries.
Senior forward Kaitlyn Dorka is Madison's leading goal scorer.
Madison will travel to face South Lakes at 7 p.m. on Thursday, May 1. McLean will host Stone Bridge at the same time.
"We're getting better and better and I can't be upset," Bouchard said. "The girls have fought every game. We feel if we put our best team out there, we can contend with everybody."