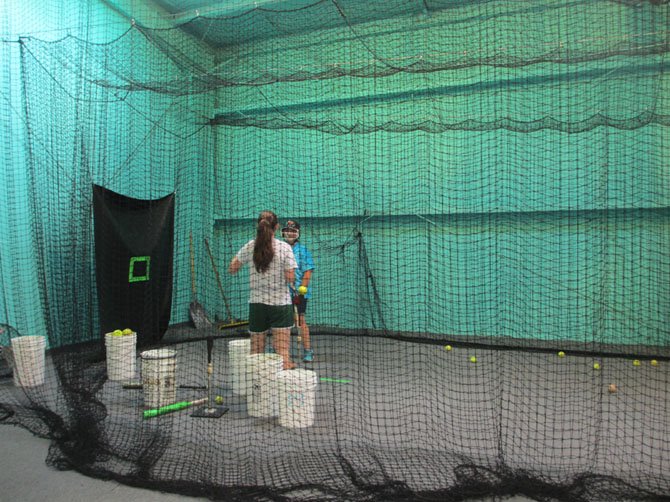 Tucked away in a concrete industrial park on Mill Street is a unique training facility for women and girls. It's not a fitness center or a dance studio. It is a training facility for softball players of today and tomorrow, from youngsters mastering the techniques of consistent batting and pitching to college-age athletes honing their skills. It calls itself Pure Performance Softball Training Center, an allusion to the benchmark standards of training and practices of softball. It is the only female-specific sport training facility in the area.
"I think it's important that young girls have a place to go and not have to play next to the boys," said Rosie Anderson, Pure Performance's main pitching coach. "The girls in this area take a lot of pride in their softball."
Pure Performance opened in Vienna in January 2013. It instructs girls and young women from the region surrounding Vienna. The staff, all former softball athletes in high school or college, have a passion for the sport, and through their years of personal experience know what strategies work to impart skills to their charges. Many of the instructional staff play baseball, as well.
Pure Performance services run the gamut from individual and group lessons in softball techniques to fitness training and nutrition, and, even, video analysis. Lesson are available as one-on-one and up to four-on-one.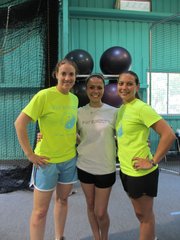 THE FACILITY is open for rentals by male and female teams, and features pitching lanes, batting cages, and an open space for glove work, footwork and agility.
Founder Anya Adams has focused on sports performance, fitness, and nutrition since 2000. She competed as a Division I athlete, and, after college graduation, became a certified strength and conditioning specialist. In 2012, Adams was the head varsity softball coach at the National Cathedral School, leading her team to its league's regular season and tournament championships. Adams has more than 10 years experience instructing and coaching young athletes.
Pure Performance sponsored the Vienna Chipmunks under-six softball team in 2014.
"You can improve but you have to want to do the practice, do drills and know what your strong points and weak points are," said assistant director Jennifer Hammond. "All our instructors have been there, done that."
Amber Carrico, 12, has been training at Pure Performance for about a year now. The youngster began playing softball in Vienna when she was 9 years old. Amber plays for the Reston Redbirds and comes to Pure Performance to work on her hitting skills.
"It's a passion in her," said Amber's mother, Anna Marine Carrico. "It's something she loves and hitting is one of the things she's really very good at." Amber travels from Falls Church once a week for her private batting lessons. The traveling-team softball player said she comes because it is "fun" and that she enjoys being coached by Megan Blank.
"I love this place," said Amber's mom. "They really hone in on her abilities and strengths. I have seen an improvement, not only on the field, but her confidence has grown, too."
The warehouse-setting is designed for individual lessons and practices, and for open-facility practice, as well. Netting on tracks separates practice compartments and can be pulled away to open up the facility. The heart of Pure Performance, though, is instruction.
"Vienna is a huge, vibrant softball community," Hammond said.
FOR MORE INFORMATION on Pure Performance and its services, go to www.getpureperformance.com or call 703-255-0002. Pure Performance is located near the end of Mill Street NE, at # 514, Vienna.