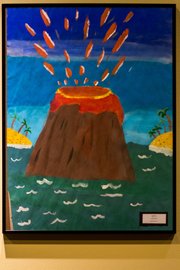 Grab a cup (iced, of course) and enjoy with an erupting volcano, snowcapped peaks, joyful portraits, complicated landscapes and tiny prints.
Great Falls Studios (GFS) sponsors a continuing schedule of exhibits in the conference room at the Great Falls Starbucks, Great Falls Center, 9863 Georgetown Pike in Great Falls.
Forestville Elementary School student art is currently on display through September – a bright collection guaranteed to delight.
The Great Falls Starbucks regular hours are 5:30 a.m. – 8:30 p.m., Monday through Friday; 6 a.m. – 7:30 p.m., Saturday and Sunday. The Conference room is often in use.
Images from the exhibit are by GFS member Kathy Owens.