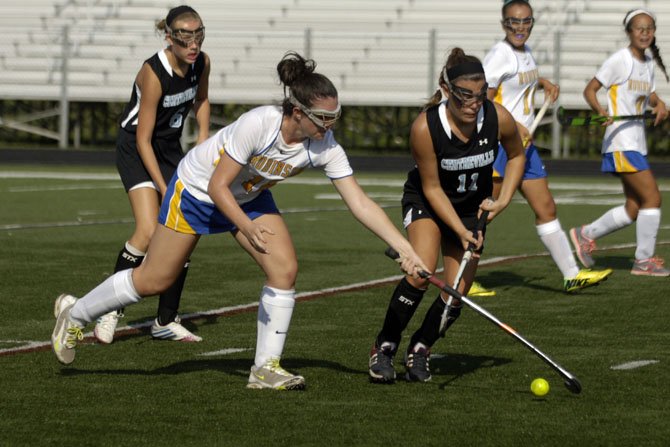 The Robinson field hockey team went undefeated during the two-day Under the Lights tournament at Lee High School on Monday and Tuesday, capturing the Pool B championship.
On Monday, Robinson defeated West Springfield, 2-1, and South Lakes, 1-0. Both games were played on grass. On Tuesday, the Rams beat Stuart, 5-0, and Centreville, 3-0. Both games were played on turf.
"I think we started off rough because it was on grass and it was difficult," second-year Robinson head coach Lindsay Arnsmeyer said. "The adjustment back to turf was very helpful."
Robinson secured an undefeated record by shutting out Conference 5 opponent Centreville. Junior Charlotte Clark scored in the first half to give the Rams a 1-0 lead, and freshman Lisa Saffin added a pair of goals in the second half.
Saffin tied for the team lead with three goals during the tournament.
"She controls the ball beautifully," Arnsmeyer said of Saffin. "She distributes [and] she's just an all-around strong player."
Junior Katie O'Loughlin also scored three goals during the tournament. Clark, a junior, scored two goals, and junior Georgia Boley, senior Alex Cole and junior Tamara Honeycutt each scored one.
Arnsmeyer said Saffin, O'Loughlin and seniors Addie Walsh and Isabel Obregon will be key contributors this season. Obregon transferred from Woodson.
"She's just very aggressive," Arnsmeyer said of Obregon, "and her hits are out of control sometimes --- they're so good."
Robinson (4-0) will host Yorktown at 4 p.m. on Thursday, Aug. 28.
"At first, I started off with a team that only won two games the previous season," said Arnsmeyer, a former Chantilly assistant who took over at Robinson in 2013. "… now we're really looking to be competitive."
More like this story