Aaron Sawyer tours around the back of a small Herndon thrift store, pointing out the volunteers who have dedicated years upon years to sifting through piles of trash-turned-treasures to sell or give away to other communities.
The Closet of the Greater Herndon Area manager said the nonprofit, which started as a way for five local congregations to combine their clothing closets, is now town institution.
Forty years after it first opened its door, The Closet of the Greater Herndon Area is still putting clothes on the back of locals and putting money into the local economy.
"I came here 12 years ago, and the thing I noticed is that this is a very giving community," he said. "There are so many ways to get involved and give back in one way or another."
As a nonprofit, The Closet gives a lot of its goods away to communities in Western Virginia as well as local shelters. They also give away $20,000 in scholarships annually to local high school students as they head to college.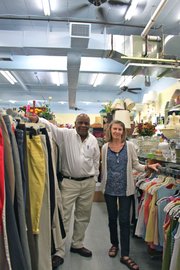 These days, more than 20 local congregations are a part of The Closet. As a part of their agreement to be included, they have to contribute volunteers every week to help clean up and sort the piles of donations they receive from town residents.
"Everybody has a part in this," said Sawyer. "Everything in this institution goes back into the community that we live in."
From Sept. 21 to 26, the nonprofit will close down to make room for the winter goods that have been stored in cardboard boxes all year. The summer goods will be shipped off to undisclosed locations to give away to people who need the items. The Closet closes for a week twice per year to sort through items and prepare for the new seasons.
Budget-wise, The Closet makes nearly $600,000 just through the cash register to cover expenses, payroll and the annual scholarship. Between $60,000 and $70,000 is given away in vouchers through referrals from social service providers in Fairfax and Loudoun counties.
"We went from as low as $200,000 to $590,000 in the last 12 years, so we're constantly growing," he said. "We've done that with a proactive executive board and management style."
Executive Board President Laura Greenspan has been involved with The Closet since the late 1990s when it was still at its lumberyard location.
"My church has been involved since the founding," she said. "The Closet does a great job of serving the community, and we want to continue to do that."
She said the volunteers, over the years, have become a network of tightly knit friends who know when a birthday has come up and commiserate when a loved one is sick or hurt.
"We're very much like a family," she said.
Sheila Barrett drives from Vienna to volunteer at The Closet three to four times a week. She has been volunteering with the nonprofit for 17 years.
"I love it," she said as she finds a home for newly priced items among the shelves throughout the thrift store. "It's like a treasure hunt, and it's never-ending. As fast as we can price things, even more things are coming in, wonderfully."
Jeannette Dekraft, Bristow, has been volunteering with The Closet for about 10 years.
"The main reason is how much it helps other people, not only to help others get affordable goods, but also to make donations to the needy," she said. "One of the best parts, though, are the friends you make working here."