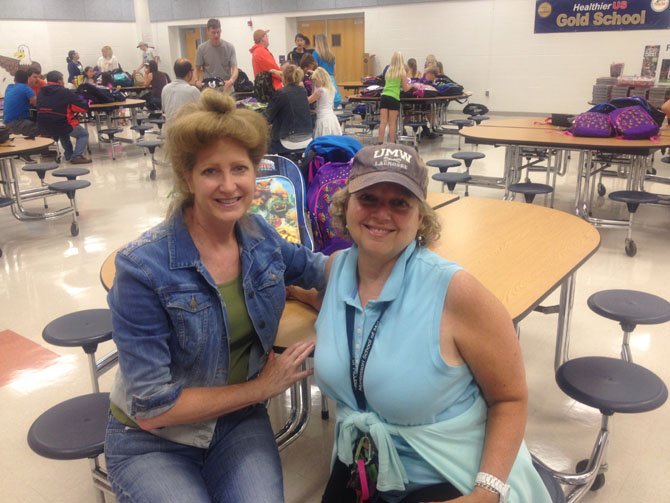 Thousands of students in the Virginia and D.C. Metro area will be returning to schools this fall. In Fairfax County, public schools open Sept. 2. However, due to various circumstances many young children will not have the basic needs that allow them to be successful in their studies. This was where community organizations such as McLean Bible Church were able to offer their services. On the afternoon of Saturday, Aug. 23, congregants of McLean Bible Church went to Hutchison Elementary in Herndon for a special backpack drive.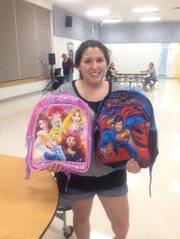 Leading the event was Gustavo Pacheco, a resident of Maryland and minister with McLean Bible Church. "I have been working with McLean Bible since May of 2014," said Pacheco. "We minister to many communities within Herndon." Over 200 backpacks filled with new school supplies were given out to parents and families who stopped by the Hutchison Elementary cafeteria to pick them up. Hutchison Elementary school is a Title I school, which means the school eligible for Title I funds based on the percent of low-income students. In Fairfax County Public Schools (FCPS) the elementary schools with the highest level of poverty receive funding that is used for positions and resources to meet the needs of their students.
"We have been preparing for this event for at least a month and a half," said Alexis Ramirez who helped coordinate the event. While volunteers were preparing the donated supplies and school gear in the cafeteria, other McLean Bible congregants and volunteers were setting up games for children outside the school building. Chiropractor Dr. Camille D'Amato and Judy Pozo grilled hot dogs for event attendees. "I have an office in Herndon," said D'Amato. "We certainly hope to make a positive outreach for the community."
"We were asked to bring a variety of school related materials including markers, rulers, pencils, and notebooks," said Karen Hilliard, a resident of Vienna. Before the event began, Pacheco thanked all the volunteers for participating. "Thank you so much, with your prayers and support it is a big blessing," said Pacheco. The McLean Bible Church had held Bible studies led by Gustavo Pacheco at Hutchison Elementary on Saturdays. Beginning in September, the church will have Bible studies on Sundays at 5:30 p.m.
McLean Bible Church is a non-denominational church with multiple locations in the Washington, D.C. metropolitan area. The congregation offers various ministries to Northern Virginia including a career network ministry which meets on Tuesday at 8925 Leesburg Pike, Vienna and Jill's House, an overnight respite care center for children with special needs. Jill's House is located on the property of the McLean Bible Church Tysons Campus in Vienna. To read more about McLean Bible Church, visit www.mcleanbible.org.