The children gathered around on the floor of the community room at Columbia Grove for a Thanksgiving story on Monday, Nov. 24. State Del. Alfonso Lopez opened Eve Bunting's book, "A Turkey for Thanksgiving," and began the tale. Mr. Moose is trying to find a turkey to bring home for Thanksgiving dinner. As the story of the turkey came to an end, Lopez selected one of his favorite children's books to read — "Don't Let the Pigeon Drive the Bus" by Mo Willems.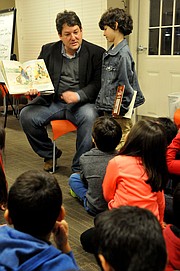 The Read-Aloud program is one of the Reading Connection outreach programs in Arlington. Volunteers visit 12 sites in the county on a weekly basis to read aloud to at-risk children, work on a craft-related project and help the children select a book to take home.

The Reading Connection has been chosen as one of the recipients of the 2014 James B. Hunter Human Rights Awards. Barbara Amaya, Stephen Fowler, the Animal Welfare League of Arlington and Doorways for Women and Families were also chosen to receive the 2014 awards. A public awards ceremony will be held on Dec. 11 from 7-9 p.m. in the Arlington County Board Room on the 3rd floor of 2100 Clarendon Blvd. in Arlington.