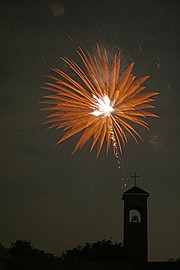 Great Falls photographer, Walt Lawrence, opens a new exhibit at Katie's Coffee.
The exhibit entitled "Great Falls in the Evening" opened on Dec. 1 and runs through the month of December. The show is part of the longstanding program where Mike Kearney, proprietor of The Old Brogue and Katie's Coffee, features the work of a different local Great Falls Studios' artist each month.
"It's no secret that I have been photographing the river, landmarks, landscapes and wildlife of the Great Falls area for the past 10 years. Earlier this year I began to examine my collection of images and quickly came to the conclusion that I really had a number of different mini or sub collections. One of these mini collections included a number of images that had been taken in the evening in all seasons of the year. I assembled a set of nine for this exhibit which includes a number of well-known landmarks, both past and present, and even a couple of Potomac River waterscapes which are very unusual. All of the images have been printed on canvas and are available in a variety of sizes. Since all of these were taken in the evening I obviously had to use a tripod and some very slow shutter speeds," said Lawrence.
The author shares and discusses some of the images featured in the exhibit with the Great Falls Connection readers.