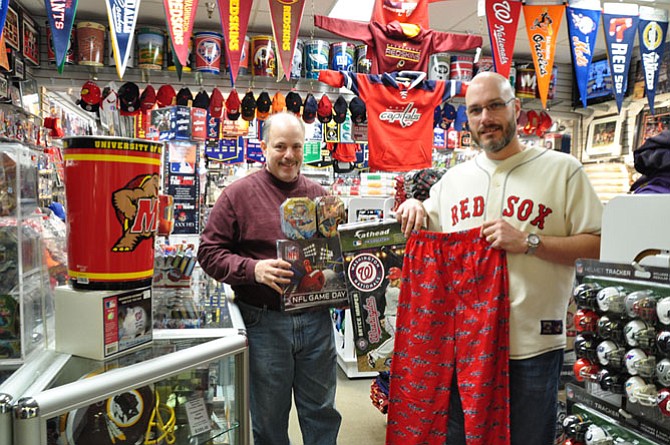 The interior of Cabin John Mall is one of Potomac's best kept secrets for holiday gift shopping. The mall offers a warm, well-lit cozy environment – not nearly as overwhelming as huge malls and packed department stores. Parking is free and you don't have to use up all of your patience jockeying for a space.
Photo Gallery
Shops Prepare for the Holidays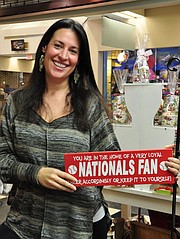 Click Photo for Flash
Cabin John Mall offers a variety of gift choices. The merchants are willing to give advice and information about the products they are selling. The store owners want to get to know you by name and hope you will return.
Here are some ideas for gifts to be found inside the mall.
Walk through the doors and head straight for Occasions Unique Gifts and Gift Baskets. Owner Stephanie Menick is a wealth of knowledge on how to find that perfect gift and her gift boutique has something for everyone. Frames can feature your photography talent. The Vinnebago is a canteen that keeps a whole bottle of wine chilled for a day at the beach or at a picnic. Her tables are bursting with Christmas and Hanukah gifts at every price point. "We can help pull themed item together to make a very complete gift that your friends or family will love," she said.
"For the man in your life, a wooden cutting board embossed with his favorite team emblem — or perhaps National's or Oriole's fun signs. The Grilling Collection or Blueberry Breakfast kits from Stonewall Kitchens taste great and men love getting a gift they can really use." Menick also creates custom baskets for corporate gifts, group gifts or just as a surprise for your hostess or your family. "My baskets are all one-of-a-kind and will definitely be a WOW gift for the lucky special person in your life," she said.
The next stop is the Toy Castle, within just a few steps of Occasions. Toy Castle's owner, Brian Mark said that there has been a toy store in this mall space since 1979. "The grandparents come here now and remember when they brought their kids here to select birthday and holiday gifts. Then they return with their grandchildren. They love telling their grandkids that they shopped here and bought toys for their mommies and daddies. We like to think that we haven't changed much from when the mall first opened. We still carry quality toys, explain what the pros and cons of each toy, often let the kids try them out — and we gift wrap."
He said that this year there aren't any really "must have toys," but "kids still love games, science kits and Legos. They are on all their lists." Cecelia Lopez has been selecting books for the book department for many years; she is an expert in helping young readers or their parents select books that will interest and excite them.
Next door to the Toy Castle is a staple of the mall – the Hall of Fame Card and Collectibles Shop. This store is filled with a sports lovers' memorabilia and all the necessary items to celebrate a favorite sports team. Banners, flags, NFL play sets, pajamas, watches, wallets, autographed balls, pictures – basically everything that a fan needs. "Our most expensive baseball card is a 1954 Ted Williams – it sells for $900," Manager Brian Aguiar said. The store carries sports cards — baseball, football, soccer, etc. of all varieties and prices — collectibles from years past. They also feature current sports teams and can outfit the family from shoes to hats, jerseys and shorts, jackets, vests, belts, socks, jewelry and more.
"Our store has been here since 1998," said owner Peter Averinos. "I have helped fathers and sons, and now those sons come in with their children. It's a cycle and I love seeing it. Pokemon is a very big seller as are the other games we sell. But kids love having a favorite team and collecting the memorabilia from the team. Sometimes they stay with these teams for life and become more and more committed to them. We sell everything that a sports fan can think of."
B Scene is a fashion-forward boutique. Sales expert Nicole Tapiero and her sister Dani, both University of Maryland students, will advise shoppers on the latest trends and give them style tips. Hot items for the holidays include candy duffle bags and backpacks and boys lacrosse Flow Society shorts. "They have been flying off the shelves," said Tapiero.
Another possibility for a child or preteen gift is to pick up a gift card for Tropicuts – a salon and spa for kids and teens. Their mission is to "deliver superior quality grooming and beauty services for the whole family while exercising the smallest details to please your needs." The salon specializes in manicures, pedicures, haircuts, up-dos, and braid for children ages 7 – 13. Tropicuts also offers birthday parties where beauty, fun and music are the highlights. "I enjoy the kids and helping each one feel beautiful. It is nice to see the happiness when they see themselves looking so pretty – and the birthday parties are so much fun. They all love them. We also have a full-service salon for the mommies, daddies, brothers and sisters," owner Lilian Ipina said,