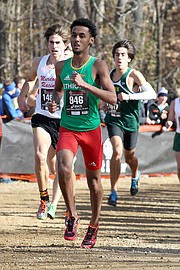 As the competition gets stronger, T.C. Williams harrier Anteneh Girma continues to turn in top-10 caliber performances.
This time, the Titan senior earned a trip to San Diego.
Girma placed sixth with a time of 14:59 at the Foot Locker Cross Country Championships South regional meet on Nov. 29 in Charlotte, N.C. The top-10 finish earned Girma a spot in the national meet on Dec. 13 in San Diego.
Girma's postseason run started with a fourth-place finish at the Conference 7 meet on Oct. 30 at Burke Lake Park. The Titan boys also placed fourth as a team, earning a spot at regionals.
At the 6A North region meet on Nov. 5, Girma turned in a top-20 time in the history of Burke Lake, placing second with a time of 14:50.
Girma ran with the leaders early in the 6A boys' race at the VHSL state meet on Nov. 15, and eventually placed sixth with a time of 15:36.
TC Boys' Basketball to Host Opener
The T.C. Williams boys' basketball team, led by new head coach Bryan Hill, will host its season opener against Wakefield at 7:30 p.m. on Friday, Dec. 5.
The teams will wear throwback uniforms as part of their annual Parker-Gray, Hoffman-Boston game.
Wakefield has won its last two meetings with T.C. Williams, beating the Titans in the 2012-13 Northern Region tournament and early in the 2013-14 regular season.
All-Conference Football Honors
Several members of the T.C. Williams football team received all-conference honors, according to a post on the school's athletics Web site.
Senior quarterback Darius Holland received first-team all-conference honors as a utility player.
Junior running back Mahlique Booth, senior receiver Isaih Clarke and junior kick returner Tavaris James earned second-team honors.
Holland, receivers Chris Gannon and Colson Jenkins, defensive linemen Ryan Thaxton and Chadi Abdalla, linebackers Teyan Williams and Tyrice Randall, defensive backs James and Chris Waddell and kicker Zach Eisenhour garnered honorable mention.