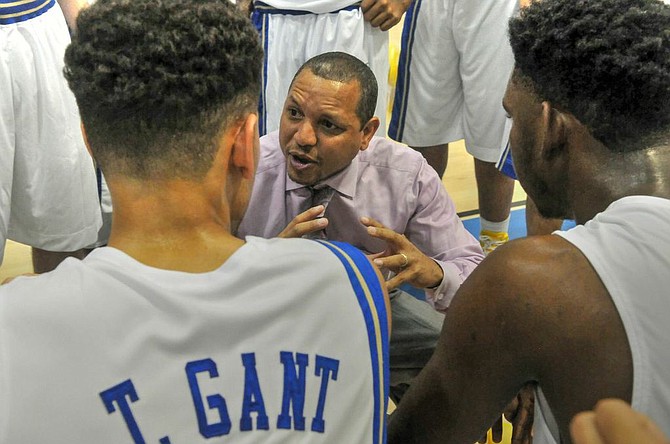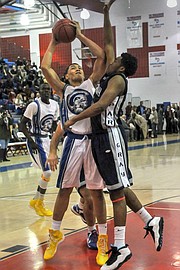 The previous two seasons were filled with accomplishments for the Wakefield boys' basketball program.
The Warriors won National District and Conference 13 championships. They appeared in a pair of region finals, winning the 5A North title in 2014, and played in two state tournaments.
Wakefield's motto for this season: "One thing left."
"We've got a district championship, we've got a regional championship," head coach Tony Bentley said Friday night. "We're missing that state [title]. Our goal and our mindset is 'one thing left.'"
The 2014-15 VHSL 5A state championship game is still three months away. On Friday, Wakefield opened the season with a convincing victory and another notable accomplishment.
The Warriors traveled down the road to Alexandria and thumped T.C. Williams 74-46 in the annual Parker-Gray/Hoffman-Boston game on Dec. 5 in "The Garden." The Titans (Parker-Gray) and Warriors (Hoffman-Boston) wore throwback jerseys honoring historically black schools in Alexandria and Arlington.
Wakefield had won its previous two meetings with T.C. Williams, but Saturday's victory was the first time the Warriors won on the Titans' home court since 1996.
"Coming over here [and] winning in Alexandria against T.C. Williams [is big]," Bentley said. "Whether they're down, up, it doesn't matter, that's still a good T.C. program, so for us to get that win, it's just going to propel us to the next games."
Bentley in previous years said his teams were intimidated when facing T.C. Williams, a perennial power in the region prior to last season, when the Titans won just four games. The Wakefield coach said experience has helped his players get over the fear of facing the Titans in "The Garden."
"You've got to understand, we've got experience now," Bentley said. "… They just said we're not going to come over here and be scared. We've got a gym just like this at Wakefield now, so we're not afraid of the gym anymore."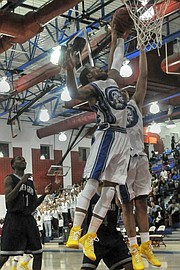 Senior forward Dominique Tham, the 2014 5A North region Player of the Year, spearheaded Wakefield's dominant performance, totaling 25 points and 22 rebounds. When Tham was a sophomore, Wakefield lost at T.C. Williams during the regular season, but the Warriors defeated the Titans in Arlington in the opening round of the regional tournament. Last year, Wakefield hosted T.C. Williams during the regular season and won, 56-51.
"I feel like I've grown up, so I'm not intimidated by anybody," said Tham, a 6-foot-4 force in the paint. "I'm not scared of anybody. I'll go up against anybody. Throughout the years, I've gotten more mature."
Bentley said Tham is at his best when he's having fun on the floor.
"When he's smiling and having fun, it's not arrogance, he's just out there having fun," Bentley said. "Oh my God. Just watching him play. He's special, man. He's special."
"When Domo has a smile on his face," teammate Marqua Walton said, "he's the best person on the court."
Walton, a senior sharpshooter, finished with 14 points for Wakefield, including a trio of 3-pointers. Sophomore point guard Alan Treakle, a transfer from West Potomac making his first start for the Warriors, finished with 10 points.
"He fits in well with us," Bentley said of Treakle. "He can fit in on any team. He's tough, he gets to the hole with the best of them and he's a great teammate to these guys. Last year, he probably had to do some scoring. He doesn't have to score as much here. He can just run the offense for us. He's a great fit for us."
Jordan Jones led T.C. Williams with 13 points and Tavaris James finished with 11.
"I feel like we got out-worked," Jones said. "We need to work harder in practice and be confident on ourselves."
T.C. Williams (0-1), led by new head coach Bryan Hill, will travel to face West Springfield at 7:30 p.m. on Friday, Dec. 12. Wakefield (1-0) will travel to face Eastern High School in Washington, D.C., at 7 p.m. on Tuesday, Dec. 9.
"We're not going take any game lightly, because we have a target on our back," Tham said, "but we're going to have some confidence going into our next game on Tuesday."