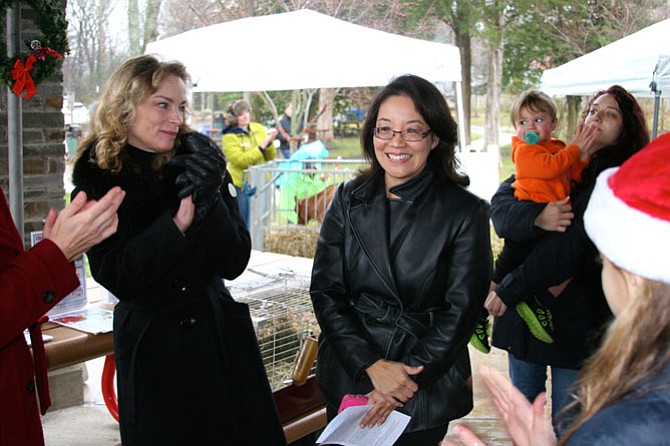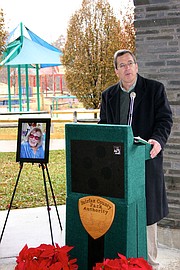 After spending nearly $1 million on renovations to repair Clemyjontri Park's worn-out surfacing, the park is ready to fully reopen. The Fairfax County Park Authority celebrated the renewal this past weekend at the park, hosting a holiday-themed event that included pictures with Santa, a craft table for making ornaments, collections for the Toys for Tots program, and a visit by several farm animals from Frying Pan Farm Park.
Clemyjontri Park was built when McLean resident Adele Lebowitz donated her land to the county, with the vision that it would become a fully accessible playground where every child, regardless of ability, could play with one another. With an estimated 200,000 unique visitors to the park every year since opening in 2006, Clemyjontri was due for a renovation.
"Clemy is a very special place," said Rip Sullivan, Dranesville District Representative of the Fairfax County Park Authority Board. "With all due respects to the many and numerous wonderful parks in the Fairfax County Park System, I have long referred to Clemy as the crown jewel."
Lebowitz, who passed away quietly last week at the age of 98, was honored at the renewal ceremony for the joy her vision and generosity continues to bring to the community.
"Clemy is more than just a playground, it's really a community treasure," said Sullivan. "And it has always taken the support of the community to make this such a very special place." Sullivan praised the Friends of Clemyjontri group, who work to "maintain, expand, and protect" the park.
Kathleen Helein, the president of the Friends of Clemyjontri, says the park "really is a much loved and magical place." Helein also mentioned that the Concert in the Park, a black tie fundraiser for Clemyjontri, will be taking place this spring on April 25.
Also at the ceremony, Sullivan announced that due to his commitment as an elected member of the Virginia General Assembly, he will be stepping down from the Park Authority Board and be replaced by Grace Wolf.