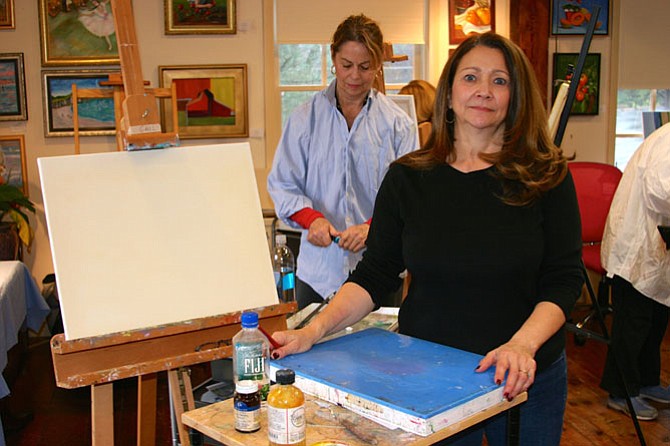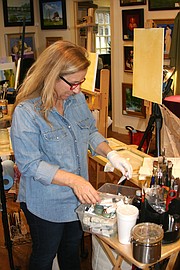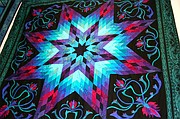 In the midst of a hectic month of holiday shopping, Great Falls offered a quiet solace for people searching for the perfect gift. The Great Falls Shopping Center Open House took place this past Saturday, and promoted shopping from local businesses in a calm and relaxing environment, according to Celebrate Great Falls.
The local businesses in town are home to many original and personal gift ideas. At Artists on the Green, a co-op art studio founded by five resident artists, a vast selection of oil paintings covered the walls. "We encourage people to buy local," said founding member and artist Gail Péan. "These are future heirloom paintings that make very affordable and unique gifts."
The studio also hosts oil painting lessons, and recently had a workshop led by artist Trisha Adams, who has taught lessons around the world. Next weekend, 36 artists of Great Falls Studios will be participating in the "Art Meets Architecture" art show at Wolf Trap from 10 a.m.-5 p.m.
Just around the corner from Artists on the Green sits Jinny Beyer Studio, which specializes in quilting. "Jinny designs all of the fabrics in the shop," said manager Dana Sherwood. She went on to say that Beyer offers classes at the studio as well, and teaches her technique of hand quilting – that is, quilting without using a sewing machine. "She's known for her colors," Sherwood said.
"There are a lot of gift ideas in the shop. We have everything from stocking patterns and Santa doorstops to table runners," Sherwood said. "Everything is very personalized because you make it yourself." Other items in the shop include pieces from local artisans, such as ornate inlaid wooden boxes.
Down the street on the slightly busier side of Great Falls is a store that recently celebrated its sixth birthday, Great Dogs of Great Falls, a competitively priced shop that specializes in by-product free items for the four-legged members of the family, was a dream come true for owner Linda Waitkus. "I wanted to open my own store and I love dogs, so this was combining two things I love more than anything into one," Waitkus said.
"We supply everything a dog needs," Waitkus continued, listing many of their top sellers including microfiber mats that can be used both as a doormat or in the back of a car, grooming supplies from brushes to dog hair dryers, and a plethora of toys and specialty freeze-dried raw diet treats. "We literally have everything in here!" she said.
Great Falls resident Sara Keenan says she buys her dog food here. "But sometimes I'll buy treats and special bones for Christmas," Keenan said.
Between the dog treats and the counter, however, was a little something for the people. Great Dogs is the headquarters for selling the White House Christmas ornaments, and all the proceeds go to the Artemis House, charity for women and children fleeing domestic violence. The venture is sponsored by Great Falls Friends and Neighbors.
When searching for the perfect place to do quiet, uninterrupted holiday shopping, look no further than the local businesses that make up the heart of Great Falls.