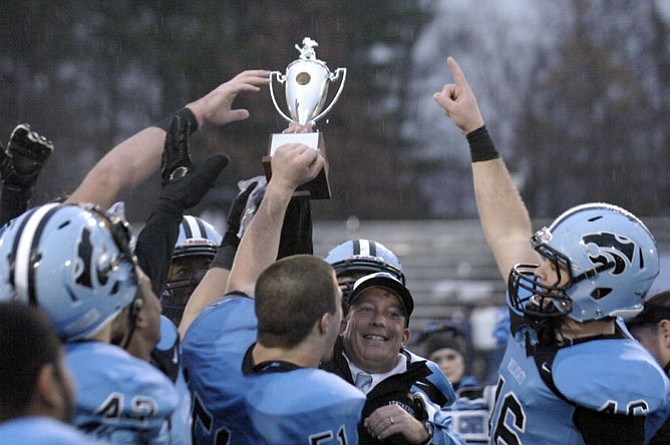 Chris Haddock stood on the wet turf at Centreville High School following the Wildcats' 21-17 victory over Westfield in the 6A North region final and talked about their opponent in the upcoming state championship game.
"I know Ocean Lakes is a really, really good football team," Haddock said. "I know that they are nationally ranked and they are undefeated ...
"It's going to be a formidable challenge."
Sound familiar?
Last season, the Centreville football team faced Oscar Smith in the 6A state final at Scott Stadium in Charlottesville. The Tigers were undefeated, nationally ranked and oozing with size and athletic ability. None of it mattered, though, as the Wildcats thumped Oscar Smith 35-6 to capture Centreville's second state championship and first since 2000. The Wildcats finished the season 15-0 and nationally ranked.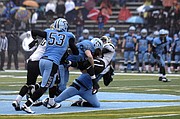 On Saturday, Centreville (12-2) will return to Scott Stadium to face Ocean Lakes in the 6A state championship game at 4:07 p.m. The Dolphins are 14-0 and ranked No. 9 in the nation by USA TODAY. They have scored at least 39 points in every game and at least 49 points on nine occasions. Ocean Lakes has outscored its four playoff opponents 179-42, including a 49-28 victory over Oscar Smith on Dec. 5 in the 6A South region final.
Ocean Lakes has several highly-recruited athletes, including 5-foot-10, 166-pound junior cornerback Levonta Taylor, who ESPN.com ranks as the No. 20 recruit in the nation for the class of 2016.
Senior linebacker Jahvoni Simmons is committed to the University of Virginia, according to ESPN.com, which ranks Simmons No. 166 on its list of the top 300 recruits in the class of 2015. Senior running back/receiver Jaason Lewis (6-4, 241) is committed to Arizona State. He has rushed for 1,762 yards and 28 touchdowns and is averaging 9 yards per carry, according to stats from maxpreps.com. He also has 18 receptions for 266 yards and four scores.
Senior safety Jahque Alleyne (6-1, 180) is committed to Virginia Tech, senior cornerback/running back TJ Griffin (5-9, 167) is committed to Wisconsin.
Eric Crosby, a 6-foot-2, 260-pound sophomore, rushed for 132 yards and four touchdowns against Oscar Smith in the 6A South final.
While the Dolphins have plenty of size and athleticism, the Wildcats know they found a way to beat talented Oscar Smith last season.
"At the beginning of the game when we were warming up against Oscar Smith last year, we were shaking in our boots a little bit," Centreville senior linebacker Tyler Love said. "They were a pretty intimidating group of kids that were real big, and we're not a very big team. We just know we can play with those kids. We can play with anybody."
Love played a major role in the Wildcats returning to the state final. After missing a month with a knee injury, Love returned for Saturday's game and made a major impact, smashing Bulldog ball-carriers and coming up with a quarterback sack on the game's final play.
"When I was hitting him, I tried to look to see if the ball was still in his hand, see if he threw it or not," Love said of his sack that stopped Westfield's final drive. "When I saw the ball, it was a great feeling."
Love was an all-state linebacker as a junior and a state-champion wrestler. He will wrestle for the University of Virginia.
"Nobody really thought that he had a shot at coming back," Haddock said about Love overcoming a knee injury. "Somebody asked me about him and I said don't ever count Tyler Love out. I've never seen a kid who is so resilient in my life.
"... He was cleared [to practice] on Monday (Dec. 1) and every day was a little bit better. Thursday, he's like, 'coach, I'm good to go.' I told our coaches, 'I know he's a tough kid and all that, let's just be careful.' Friday he was running around like he'd been doing it all year and you saw what he did today.
"... He's a champion, he's a winner and he's a great leader. He's a great kid. At the end of the day, great leaders and great kids make great plays, and he did that today."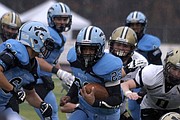 Love isn't the only Centreville standout to miss time due to injury this season. Running back A.J. Turner, who is committed to the University of South Carolina, missed much of the season with a wrist injury. In Saturday's region final, he returned the opening kickoff 98 yards for a touchdown and scored on a 52-yard run. He finished with 19 carries for 140 yards.
"It helps out a lot," senior receiver Charles Tutt said of having Turner on the field. "He's our [motor]. When he gets going, the rest of the team gets going."
Senior quarterback Joe Ferrick completed 7 of 11 passes for 107 yards. He threw the game-winning 22-yard touchdown pass to Xavier Nickens-Yzer with 7:28 remaining in the fourth quarter.
Westfield running back Evan Gray scored on a 61-yard run and a 56-yard reception from quarterback Mason Scoville.
Westfield lost in the region final for the fourth consecutive season.
Centreville senior running back Taylor Boose, who is committed to the University of Cincinnati, sat out of Saturday's game with a knee injury. Haddock said he didn't know if Boose would play in the state final.
Centreville has an opportunity to become the first Northern Region team to win back-to-back big school state titles since Annandale won in 1993 and 1994.
"I don't ever put anything past our kids," Haddock said. "They just find a way. They've stepped up and they've filled in and I'm extremely proud of them. We're excited to play one more week and hopefully bring one back to Northern Virginia."