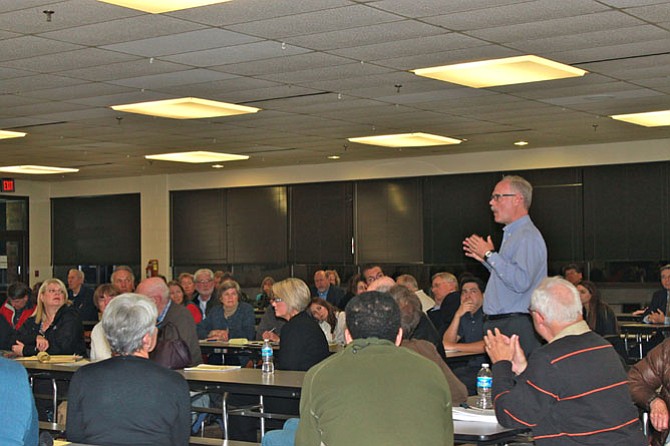 More than 150 residents showed up on a Wednesday night to speak against cluster development proposal seeking rezoning.
The Citizens for the Heart of Great Falls, among other area residents, left unsatisfied with Basheer and Edgemoore's answers on Dec. 3 at Forestville Elementary about their development proposal, many stating they would prefer to have the zoning kept to 5 acre lots rather than splitting them.
More than 1,450 citizens have also signed in-person and online petitions to stop the proposal.
"It's really a vote for conservative development of the many other pockets of natural spaces in Great Falls," said resident Rob Cox. "At 50 acres, this is one of the largest, but there are many other smaller parcels around town that also need protection, for lack of a better word."
Since 1979, the Brooks property - the land Basheer and Edgemoore bought - has been zoned as Rural Agricultural (RA), meaning one lot is 5 acres. Basheer and Edgemoore are proposing to rezone the area as Residential Estate (RE) to reduce the acreage to 2 acres. The developers hope to build more than 20 homes on the lot.
THE PROPOSAL would have to pass before the Board of Supervisors next year in order to become effective.
"We are not asking for a special exception," said Basheer and Edgemoore attorney. "Let's be clear about that."
He said he would not have all the answers to every question that night, but encouraged citizens to call his office, saying that Basheer and Edgemoore representatives would be willing to meet in residents' living rooms to work out any issues they may have.
He noted that the zoning for the former Brooks Farm property matches that of the surrounding neighborhoods.
The increase in traffic was not the only concern. Resident Melonie Sullivan, Walker Lake, said the increase of homes would create a problem with the lake's ecosystem.
"If this proposal passes, how long will it be before this stream looks like Captain Hickory?" she asked. "These streams overflow during heavy storms and cause damage to our homes, wash away bridges and sometimes people. Increases in runoff from more development just exacerbates the problem."
She said that silt accumulation can lead to a dried out lake and upstream development could lead to algae blooms.
"Who wants to buy a house on this lake," she said, pointing to a photo of a lake at low level.
Even more, she said that 23 more septic fields could lead to groundwater contamination. The majority of residents in the village are on a well water system.
Resident Fredric Quinn proposed that the residents of the village buy back the property and turn it into a botanical gardens, allowing citizens to make the property what they want of it.
"It would be a gift to Great Falls and keep it rural," he said.
Quinn has gained support with his idea through a group on Linkedin and plans to formalize the proposal to the Great Falls Citizens Association.
SUPERVISOR John Foust, who attended the meeting, said the Board of Supervisors will not make a vote on the proposal until late spring.
"The turnout was significant and impressive," he said. "It demonstrates a lot of concern on the community's part. The applicant has a lot of work to do."