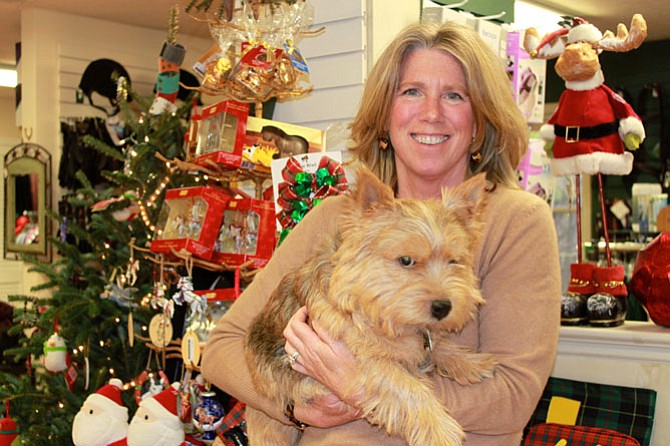 Tucked inside of a Walker Road shopping center is a local equestrian's holiday secret.
The Saddlery, a shop that specializes in equestrian gear and clothing for women, is brimming with hostess gifts, stocking stuffers and presents for nearly all women.
"It is an equestrian store, but a lot of the casual clothing we sell is universal," said Louise Cobbett, sales associate.
Cobbett has been working with the shop for two years and said many of the clothing, whether it is the outdoorsy gear or more casual wear, is both good quality and stylish.
According to sales associate Gail Rezenders, who has worked at the store for a year but is a long time customer, the horse treats, some of the ornaments and the advent calenders are hot ticket items that are sure to sell out every year.
The shop carries Dubarry of Ireland boots and handbags, high quality items that cannot be found at the mall. Cobbett said the closest shop that sells the brand is a boutique in Georgetown.
"It's the best leather boot you can get," she said. "It's made in Ireland, and it's just fantastic."
For the girl who is asking for a pony, The Saddlery carries Breyer toy horses. A group of boxed figurines are stacked high near the cash register
Cobbet grabbed a set of napkin rings shaped like a horse's bit, commenting about the Hermes-like quality about them - for less.
"The equestrian theme is very in vogue right now," she said. "You don't have to be a horse person to find gifts here," she said.
That includes hostess gifts as well. While there are a plethora of horse themes items - from makeup bags with horseshoes emblazoned on them to snow globe ornaments with show horses, Cobbett said Elaine's Toffee is a "game changer" and makes a great gift for anyone.
The shop sells local jewelry by Patricia Barta and customers can also get items embroidered by a local embroiderer.
The store usually has a 10 percent off sale somewhere in the shop, but for those who love to shop after the holidays, The Saddlery has a big inventory sale after Christmas.
"You'll save loads," said Corbett.
The shop sponsors local events and civic engagements, so every penny goes back into the community.
"I love our community of Great Falls, and the very reason I purchased the shop in 2007 was to keep the tradition of a local tack shop here in our town," said owner Sarah Kirk.
The sales associates agree, stating that it is important to buy from local business owners during the holiday season.
"Shop local," said Rezenders. "You don't get to meet your friends and neighbors if you shop online."
The Saddlery is located at 731 Walker Rd. and is opened from 10 a.m. to 6 p.m. Monday through Saturday and noon to 5 p.m. Sunday.
For more information, visit http://www.thesaddleryinc.com or call 703-759-3500.