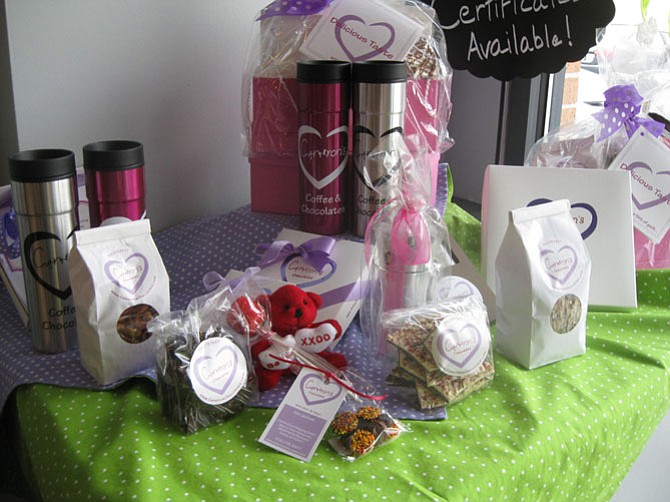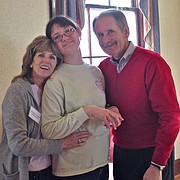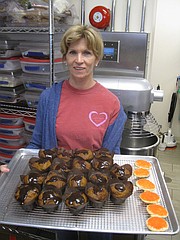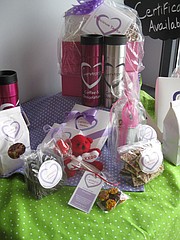 Looking for holiday gift ideas of hand-dipped chocolates and fresh-baked-from-scratch muffins, try Cameron's Coffee and Chocolates located in the Fairfax Circle Shopping Center. Owners Jim and Ellen Graham of McLean named their store, which opened Oct. 1, 2013, after their daughter Cameron, 24, who has intellectual disabilities.
"We determined there was no place to get a cup of coffee around here. So now we do coffee, muffins, baked goods and make two sandwiches," said Ellen Graham, who has a master's in finance and was a banker for 17 years.
The store is unique in that it employs four full-time and six part-time people with intellectual disabilities. Employees with intellectual disabilities work alongside others who don't have them. There is a production board with a list of jobs that changes every day, so the work is a mixture of different tasks. The employees are not just working in isolation with other disabled workers.
"We believe that people with intellectual disabilities are capable of so much, that they are like everyone else, that so much of their self-worth and self sufficiency comes from having real expectations by having a job and a place to work, and being part of a larger community," said Ellen Graham.
"Ellen and I set out to create a work environment where everybody was involved with the buying public," said Jim Graham, who has an MBA in marketing. "Cameron just loves people. She's high energy. She's the spokesperson for the business in a lot of cases. And it's one of the things that sets us apart." Cameron attended the Davis Training Center, which is part of Marshall High School, where she learned different job skills.
FOR HOLIDAY GIFT IDEAS, Cameron's offers hand-dipped chocolate nonpareils, which is French for "nothing equal," and sell for $1.50. A four-piece box of chocolates goes for $5, and you can pick from an assortment of 30 different flavors.
Hand-dipped marshmallows are dipped in white chocolate and rolled in colored sugar for 75 cents. Three different bars of chocolate are available: white chocolate oreo, toffee milk chocolate and dark chocolate almond cherry, for $7.95 each.
Chocolate and peppermint bark, harvest bark with cardamom bark with candied ginger, and pumpkin seeds are both $11 for eight ounces. "This one is so popular that we literally can't keep them in stock," said Ellen Graham.
For cookies, choose from a variety of flavors in a cookie platter: chocolate chip, chocolate crinkles, snickerdoodles, sugar cookie cutouts, triple ginger, oatmeal white chip cranberry, monster cookies, which is oatmeal, peanut butter, Reese's pieces and chocolate chips.
Gluten-friendly items include brownies with ground-toasted hazelnuts for $1.50; coconut macaroons that sell for 70 cents, and peanut butter cookie for 70 cents. "We have people who drive from Alexandria, Bethesda, and Washington, D.C., to get those glutton friendly brownies," said Jim Graham.
The menu rotates in and out with the season. "We have pumpkin muffins in the fall; in August we have apple cinnamon streusel; cranberry orange in Christmas; lemon muffins for Easter; and blueberry and strawberry in the summer time," said Ellen Graham.
There is a whole array of gift baskets from $16 to $25, which includes a travel mug, coffee and a jumbo marsh pop.
For the tea drinkers, try 12 tea sticks in an insulated glass that sells for $16. Choose from a selection of high tea blend, Earl Grey, mango black tea, pineapple black, passion black, as well as cardamom black teas. There's also peach green, jasmine green, pomegranate white, mint medley, ruby raspberry and chamomile blend.
Whole quiche pies are available for special order like vegetable with spinach and roasted red peppers, and bacon cheddar for $20, or $5.95 per slice.
Caprese breads are made with sundried tomatoes, basil and mozzarella, spicy jalapeno cheddar, and pesto breads are available for $13.95 for a loaf.
FOR DRINKS, they specialize in coffee, espressos, hot chocolate, and an array of smoothies (strawberry, wild berry, mango, and peach). Frozen yogurt is available in the summer time.
"I stumbled upon this little place and I really enjoy supporting local business," said Kelly Sullivan of Fairfax. "I think it has a great cause. The food and candy is delicious and much better than any mass produced food that you get at a Starbucks or Dunkin' Donuts. It's much better quality."
"It's a great place," said Margaret Edie of Fairfax. "I like the employees and that they work with the disabled. The hot chocolate that I had at the Fall Festival was divine."
Cameron's Chocolates is open Mondays through Fridays, from 7 a.m. to 5 p.m.; and weekends from 8 a.m. to 5 p.m. The store is at 9639 Fairfax Blvd., Fairfax, VA 22030. Call 703-278-2627 or visit www.every1canwork.com.