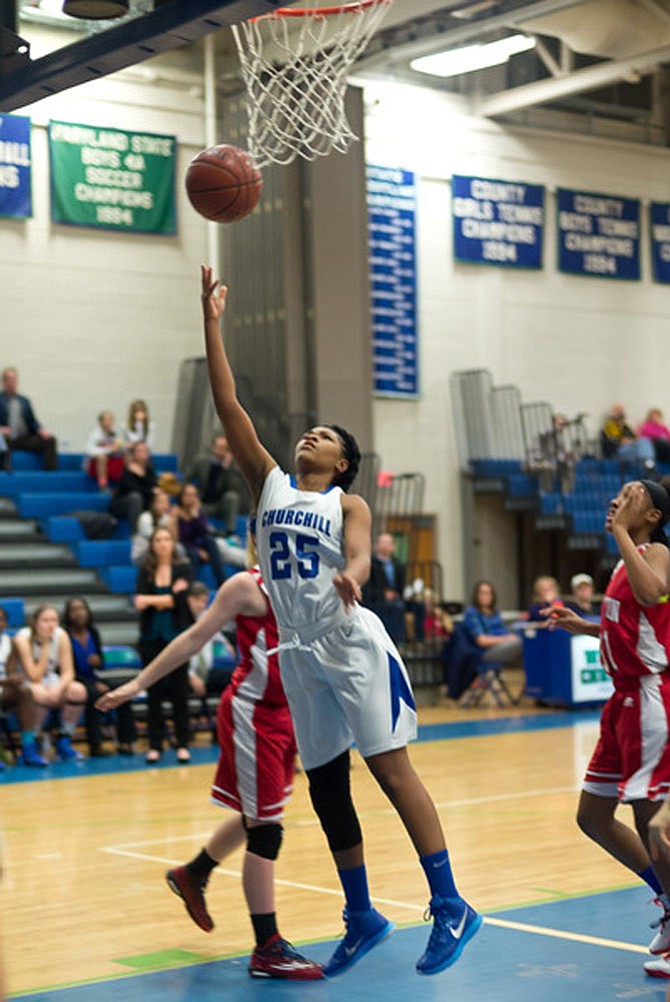 Sheri Addison's late bucket lifted the Wootton girls' basketball team to a 54-52 victory over rival Churchill on Dec. 12.
Addison finished with a game-high 21 points and was one of three Patriots to finish in double figures. Kaitlin Klausing and Ellie Kobylski each scored 10 points.
Japria Karim-Duvall led Churchill with 18 points, including a pair of 3-pointers. Sophomore CoCo Kuchins finished with 10 points.
After opening the season with a three-point loss to Paint Branch and a lopsided win over St. Andrew's, Friday's loss to Wootton dropped Churchill's record to 1-2.
"Honestly, losing to Paint Branch isn't anything to be ashamed about," Churchill head coach Kate McMahon said. "We played really well in our first game. [Against] St. Andrew's, we kind of got into a rhythm. [Against] Wootton, we knew they were going to be tough. We didn't play our smartest game, we didn't have our best shooting game. …
"I'm not too worried."
Karim-Duvall and point guard Izzy Wu are Churchill's top returning athletes. Karim-Duvall is averaging 16.3 points per game, while Wu is at 10 per contest.

"They've really played great so far," McMahon said. "Japria has always been one of the top players in the county since she was a freshman. Izzy, we always thought she was the best point guard in the county."
McMahon said Kuchins is also playing well.
For Wootton, the victory improved its record to 1-1, including a season-opening 14-point loss to Walter Johnson. Addison is averaging 17.5 points in two games, while Ellie Kobylski and Cece Kobylski are each averaging 10.
Wootton faced Whitman on Monday, after the Almanac's deadline. The Patriots will host Wheaton at 7 p.m. on Wednesday, Dec. 17.
Churchill faced Kennedy on Monday. The Bulldogs will host Gaithersburg at 7 p.m. on Wednesday.