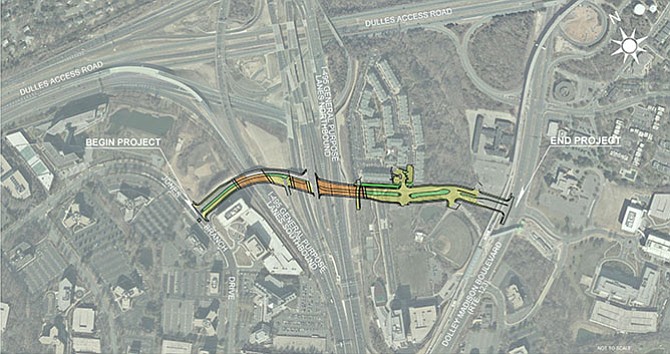 The proposed Jones Branch Connector may be the answer to some of the congestion issues on Route 7.
During the public hearing on Dec. 10 at Spring Hill Elementary for the pending transportation project, Project Manager John Dresser said it would be a pressure valve for the increasingly heavy traffic through Tysons Corner during rush hour.
"We need another connector to get through Tysons on Route 123," he said.
The connector will run over I-495 from Jones Branch Drive to Dolley Madison Boulevard by the McLean Metro Station. Current plans, which are not official yet, include sidewalks and bike lanes on both sides of the four lane roadway. The connector on the roadway will include a grassy median and room for landscaping in between the bike lane and the sidewalks.
"The plans are now 40 percent complete," said Dresser.
The project is expected to last between 25 and 30 months. The public comment period will last until Dec. 20.
"We are here to take your questions and comments and use those to refine the project," said Fairfax County Department of Transportation (FCDOT) Director Tom Biesiadny.
Dresser said he expects to begin the right-of-way acquisition phase next fall and begin construction by late 2016 or early 2017.
Expected completion is 2018.
The east side, connecting to Route 123, will be built first. Once completed, it will be opened to traffic as the side connected to Jones Branch Road is worked on.
Gates of McLean Unit Owners Association President Lisa Samuels spoke out at the meeting about resident concerns.
"Our biggest concern is access," she said. "We really have significant concerns with getting home at night."
She was worried also about the amount of noise the night construction would make, but Dresser said the contractor has to abide by local noise regulations.
When he mentioned a possible soundwall being erected by the Gates of McLean if residents were interested, Samuels became excited.
"I can tell you the answer to that is yes," she said.
Other locals were happy to see pedestrian and bicycle-friendly access in the project.
"Until now, there had been no other way for cyclists to get from McLean to Tysons Corner," said Dennis Frew, McLean, a county bicycle advocate. "This will be the only safe way in."
More information and photos can be found at http://www.fairfaxcounty.gov/fcdot/jonesbranch.htm.