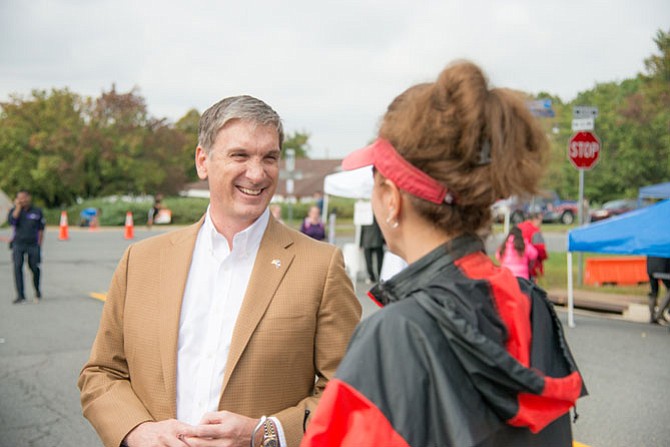 Craig Parisot can juggle.
Whether that means candy canes or work-life balance, he catches everything that comes his way.
With a growing new family, a growing list of leadership roles in the community and an active campaign as the Republican candidate for Delegate of the 34th District, this is a job that requires both hands.
Bio:
Current Position: CEO of Aperio International
Residence: McLean
Spouse: Kristin
Children: Jackson, 12 weeks old
Education: University of South Carolina BA English, California State Polytechnic University Pomona MBA
Current and previous organizations: President of Volunteer Fairfax, Board of World Police and Fire Games, Northern Virginia Technology Council, McLean Citizens Association, Great Falls Citizens Association.
Q&A: Get to Know Craig Parisot
What are your top three accomplishments?
Craig Parisot: The number one is I am so fortunate to have a magnificent wife and things just keep getting better every day. I have such an adorable, healthy child.
My second is my service as an officer in the United States Air Force.
The third is really growing and operating a successful business where we had nearly 300 employees at one point. And we never missed a payroll. That was really special.
What would be your top three priorities as delegate?
Parisot: Growing and diversifying the Commonwealth's economy. Transportation. Education. They all go hand in hand. They're all key investments.
Why should our readers vote for you?
Parisot: I'm very deliberate about the decisions that I make. I'm deeply committed to this community, deeply committed to being the best delegate that I could possibly be. I've absolutely got the best background for this. I think it translates for the needs and priorities for the 34th district, and I am not a career politician.
How would you show off Northern Virginia to out of town friends?
Parisot: First of all, we'd have to use a car, so hopefully the roads are clear and we don't come across much congestion. I would start by taking them out to our farm in Great Falls, just to show them the raw beauty. I'd then show them all my favorite spots here in McLean.If we get a little more daylight, we might go out to Great Falls National Park, take a little hike, because it's just so gorgeous.
What would people find surprising about you?
Parisot: I can juggle - apparently not odd sized objects - but cylindrical objects that in particular. I think the other thing is that my entrepreneurial roots run really deep. I was that typical kid that had the lemonade stand on the side of the road on a hot sunny day to make a little bit of money, because I do come from a single parent home.
How do you relax off the campaign trail?
Parisot: Well, when you do get time, it's really about spending time with my family, making every opportunity to spend those moments with my wife and my son. Especially now, I'm watching him grow up and discover life.
"If there is one thing I want people to know about me, it's that I'm not looking for purpose by running," he said, sitting in the tight quarters of his McLean "Parisot for Delegate" office. "I'm running with purpose."
Although his son Jackson is only 12 weeks old, Parisot has just weeks to knock on doors and pound pavement to win voters over. He loves having the opportunity, however, to talk to the diverse group of locals that make up McLean, Great Falls and parts of Loudoun County, an opportunity he said he would almost never have without running for office.
"It inspires me to do right by all people," he said.
He said his parents divorced when he was a young boy in South Carolina. His mother raised him, and at one point, the family had to go on food assistance while she put herself through school to become a nurse.
"I always paid attention," he said. "I asked why my mom was a Republican - what does it mean to be a Republican?"
Working in the South Carolina Legislature as a page, his eyes were opened to how the legislative process worked. His interest in politics found its spark.
"It's about being conservative," he said about what it means to be Republican. "The Republican Party I know and love welcomes everybody."
HE MOVED to the area 13 years ago after serving as an officer in the U.S. Air Force.
Sang Yi, a Navy reserve officer who met Parisot through community activities, says that service in the military gives him an edge to run for office.
"I think when people serve in the military, they learn leadership skills that are not readily available at other jobs," he said.
Also, with a child under 3 months, Yi is impressed that Parisot decided to run in a drastically shortened race.
"He's probably not getting a lot of sleep right now," he said. "He's a remarkable guy."
His wife, Kristin, and he lived in Washington, D.C. while they worked for many years, then moved to McLean three years ago.
They finally bought a house in McLean two years ago. They also have a family farm in Great Falls where Kristin can ride horses.
Two years ago, he also sold his company Altamira Technologies, that once had nearly 300 employees. He said the benefits and fair wages the company provided made them competitive in the field.
"NOVABizPAC, the Fairfax County Chamber of Commerce's political action committee, is pleased to endorse and support Craig Parisot for Delegate," said NOVABizPAC Chair Scott McGeary in a press release announcing their endorsement. "It is our hope that Mr. Parisot will take his pro-business and pro-jobs policy positions to Richmond to ensure Virginia remains a top state for business."
Serving in the military gave him drive to serve in other ways once he separated from the Air Force. He has taken leadership roles in local nonprofit boards and goes to McLean Citizen Association and Great Falls Citizen Association meetings to listen to the issues that impact the area the most.
In pursuit of a way to serve during the short time he lived in Cheverly, Md., he decided to run for mayor - something he says his opponents misread about his intentions.
"I knew I wasn't going to win," he said. "But I learned a lot of things. It really helped me to learn about my community very quickly."
What he is learning from local communities this time around are the issues he plans to take to office if he wins: boosting the state's economy, promoting education and improving transportation. He believes that all three of those requests are connected.
"Listen, listen, listen," said Parisot. "You will learn so much, and your actions will be so much better by listening."
Fran Fisher, of Vienna, met Parisot when they were campaigning over the summer for Barbara Comstock's run for U.S. Congress. Fisher said she briefly contemplated running for her open delegate seat, but is excited that Parisot decided to.
"He's got his priorities straight," she said. "He's level-headed. He's got a good grasp of the issues of the district."
She also noted that his business background gives him an edge.
"As a business person, he understands a budget and how to live within a budget," she said.
THE BIGGEST CHALLENGE he is facing is just letting voters know there is an election in January even though there was just an election in November. Between those two elections are some of the biggest holidays to nearly every denomination - but he does not want to compete with them. Rather, he is collecting canned goods while on the campaign trail to donate to a food pantry.
Ryan Rauner, who met Parisot through the Finance Committee on the Fairfax County Republican Committee, said Parisot's success in business will make him a successful delegate. He described his colleague as passionate, dedicated and business-minded - a smart person who understands the issues.
"He doesn't need to become delegate," he said. "I know he's doing it because public service is a service. It's not a career for him, it's a passion.
Jim Tragakis serves on the Volunteer Fairfax board that Parisot leads. He said he was excited when he found out Parisot was running for delegate.
"He's very strategic in his thinking and focuses on getting things done," said Tragakis. "I can see him working his way into leadership positions like committee chairman and other positions like that."
Parisot continues to knock on doors and go to community meetings where he can listen in and hopefully tak
e those concerns to the General Assembly one day.
"When people talk to me, they know what they're getting," Parisot said.